More and more people carry concealed today. The reason is simple. There are a ton of option out there when it comes to subcompact 9mm semi auto pistols. They are small and thereby easy to conceal. They are light and thereby comfortable to carry. They have enough firepower round by round thanks to their caliber, and they often come with enough rounds in the magazine to make a difference. What more can you want?
Most people who are carrying everyday have not drawn their gun, but they are ready to do so if they have to even if they would like to avoid any confrontation in general. To be even more prepared, it is wise to carry your pistol with a red dot. These are small enablers that can make a big difference. They allow you to get your gun on target fast and accurate enough for a self-defense encounter.
With the market practically overflowing with striker fired 9mm pistols that are optics ready, feature high capacity, and are easy to conceal, it is time to come up with some help. We present you with a list of the top 10 options in this regard. That does not mean you have to buy all 10 of them. Just choose one and with the pistols on this list, you just cannot go wrong. Go to the range, test some of them, and choose the one that fits you best.
With that being said, it is time to turn our attention to what you have been waiting for, our picks for the top 10.
Shadow Systems as a company was founded in 2016. Since then, it has made a name for itself with its so-called "Gucci Glocks". These are much more reliable and shootable EDC pistols with the Shadow Systems CR920 as the premium model.
Coming with an aggressive styling, it does score with its sharp looks. However, more importantly, the design is made for easy operation and handling. The trigger is very smooth with a crisp break, and the grip is designed to make for a good hold while shooting increasing controllability and with it accuracy. Also, it comes with slide cuts.
The model is compatible with holsters for the Glock 43X MOS and G48 MOS. The capacity stands at 10+1 or 13+1 depending on which magazine you use.
Stoeger is known for their shotguns, but that does not mean that the company does not try other things. In this case, it is the STR series of pistols for every day concealed carry. On their introduction, these little guns made for some pretty serious waves, but they are in practice more like a Glock clone. However, they do offer one advantage. They are much more affordable than Glocks while coming with the same quality.
That makes the STR-9 Compact a solid option for everyone looking for a more budget friendly gun. It comes red-dot ready, and has a capacity of 10+1 or 13+1 depending on the magazine. With that, it is still small enough to be carried concealed without printing. Also, you can use dedicated holsters as well as holsters compatible with Glocks.
The Smith & Wesson Shield is one of the most popular options when it comes to concealed carry. While there are a lot of these beauties out there, Smith & Wesson had to do something to stay competitive with the new developments. Hence the Shield Plus.
It is a striker-fired 9mm sub-compact that features an impressive capacity. With the flush fitting magazine, you get 10 rounds. For the extended magazine, it is 13 rounds. You can get the Shield Plus with different options depending on the variant. That includes red-dot ready, different iron-sights, a thumb safety, and the Performance Center Shield Plus which gets you all the fancy things Smith & Wesson has to offer.
Walther created a real hit with the PPQ pistol. It was adopted by a wide range of law enforcement agencies, and it was carried for self-defense all around the world. Then, Walther stepped up the game. The Walther PDP Compact is the pistol that combines what you need for a concealed carry pistol.
Now, with the F-Series, Walther went one step further. It introduced a pistol that is really optimized for women. To achieve that, it comes with a two-piece striker. This allows to reduce the force necessary to rack the slide by 20%. Also, the ergonomics are tailored more to female hands. That includes a reduced circumference for the grip so that has a better fit and allows for more control during shooting.
Being modular, this gun is available in a 3.5-inch and a 4-inch variant. Also, it is red-dot ready. The trigger reach is reduced, and the trigger sits further back inside the trigger guard again fitting female hands better.
If you are looking for affordable firearms, Taurus is a great option for you. They also offer an extensive line of sub-compacts in which the Taurus GX4 T.O.R.O. is the premium option. The T.O.R.O. is practically identical with the base line, but it is ready to accept red dots.
For the capacity, you can choose between 3 magazine lengths. They hold 10, 11, or 13 rounds. Also, they are durable, what is very important as it is often the magazine that is the weak point if there are failures.
5. Kimber R7 Mako
Kimber offers a range of excellent every day carry pistols which have been quite successful on the market. Mostly, they are hammer fired. Now, with the R7 Mako, Kimber stepped up their striker fired game.
From the beginning, the Mako comes with the quality you would expect from a Kimber. That includes a premium trigger and ambidextrous control. The grip sports a full-wrap texturing, and the capacity is quite impressive. The standard magazine holds 12 rounds, and the extended one comes with 14 rounds. Also, the pistol has the best accuracy in its class.
Being optics ready, it is cut for the Shield/J-point mounting interface which is pretty common. If you do not want to use optics, you can aim with the tritium iron sights and a Glock-cut rear sight.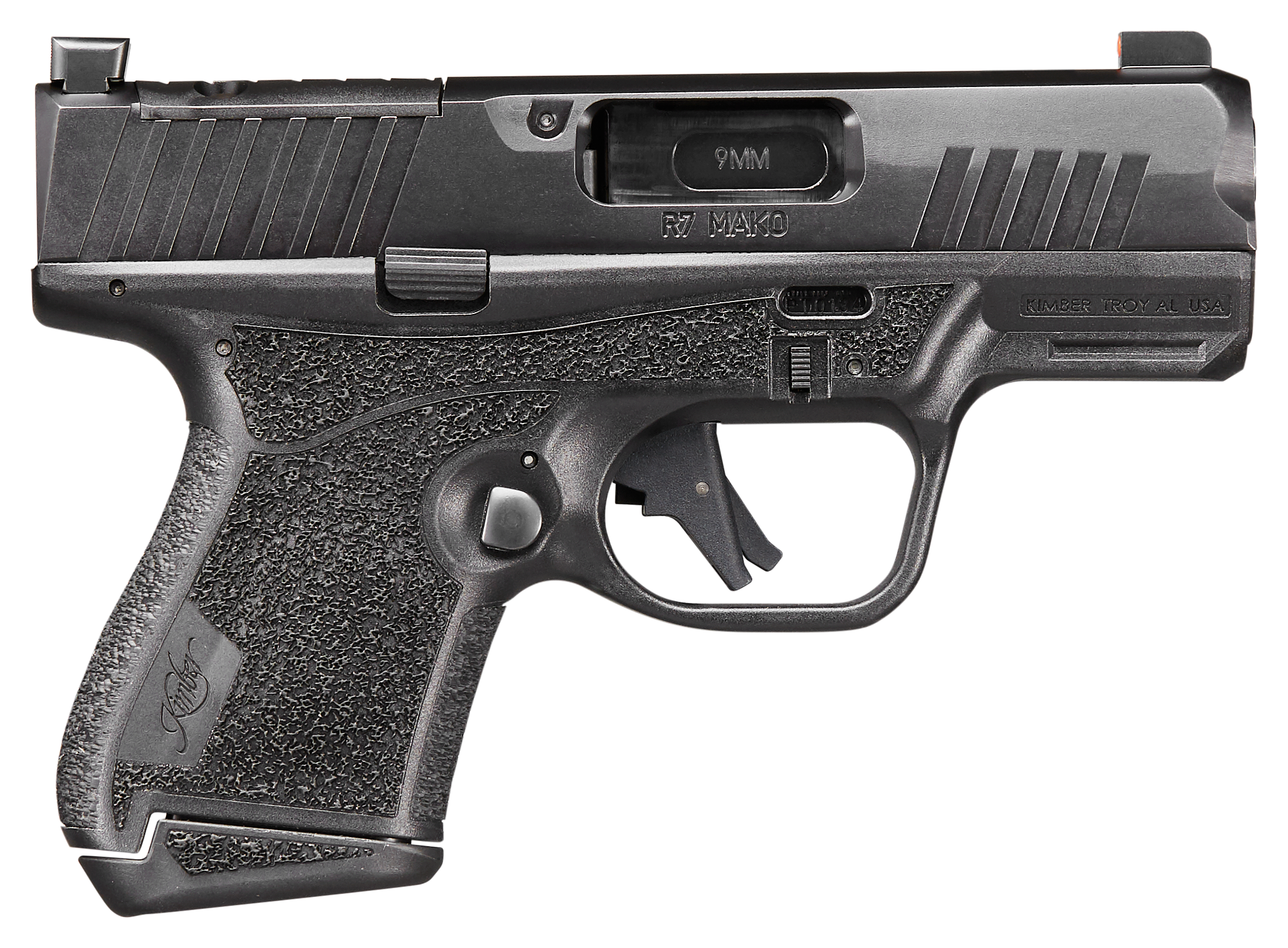 While Mossberg is known for its shotguns, it has also entered the EDC market with their MC1sc pistol. Now, there is an update in the form of the MC2sc. This allows it to remain competitive with what is considered the standard for concealed carry today.
It comes red-dot ready, and it uses the Shield/J-mounting pattern. For the capacity, you can use a flush fitting 11-round or a 14-round extended capacity. That means that with one round in the chamber, you can boast it to all in all 15 rounds.
The pistol features a flat trigger which comes with a great pull, and its grip sports some nice textures which make for good control without feeling like sandpaper against your skin. Different variants offer different options that include a manual safety, TruGlo ironsights and such. As a platform, it is reliable, and you can find some comfortable holsters for it.
If you want to go small and light, the Ruger MAX-9 is the option made for you. It is one of the smallest and lightest platforms in this category chambered in 9mm with a weight of just 18.4 ounces. Its width is less than 1 inch, and it comes with a capacity of 10+1 or 12+1 depending if you use the flush or the extended magazine.
The grip sports excellent texture giving you a good purchase. That makes it very controllable during shooting what in turn increases your accuracy. You can choose between different variants. That also includes red-dot ready ones, and an option with the Crimson Trace 1500 series red-dot installed from the factory.
It is a true American design and build, and it is extremely reliable. Also, it is easy to operate making it ideal for beginners.
The Springfield Armory Hellcat has made its way to be one of the most popular sub-compact pistols that you can find on the market today. That has led to a great expansion of the Hellcat family. When it came out, it was aimed at beating the competition with its small size but great capacity. For this, it had a standard magazine with a capacity of 11 rounds and an extended magazine holding 13 rounds.
Nowadays, you get options that are red dot ready, that features compensators, and there is a Pro model. When it comes to concealed carry, the Hellcat wins because of its capacity but also because of its accuracy and how easy it is to shoot it. Also, it comes with a record of outstanding performance and extreme reliability. This makes it especially appealing to people choosing their first concealed carry firearm.
SIG Sauer brought a real game changer on the market, the very first sub-compact pistol with a capacity of 10+1. As it has everything you are looking for in a concealed carry gun, it became quite popular in a very short time. Since then, the line has expanded to a lot of different models and features.
From its size, the P365 is comparable to pistols of its time that are chambered in .380 ACP. However, it comes chambered in 9mm. While this is already impressive, its capacity beats most of the other options on the market.
Given its size, you might think that the recoil in this pistol is quite pronounced, but to the contrary, it is rather smooth shooting. Firing it, you might be tempted to think that you are holding a full-size 9mm in your hands. This makes for some great accuracy.
Looking at the new additions to the P365 series, you find variants with compensators and others that are red-dot ready. They have better trigger options, and you can even get some with longer slides like for example the P365XL. For concealed carry, the P365 is just great. Thanks to its slim design, there is hardly any printing even if you wear clothing that fits tightly. Also, there is a wide range of different holsters available for each of the different variants of this family.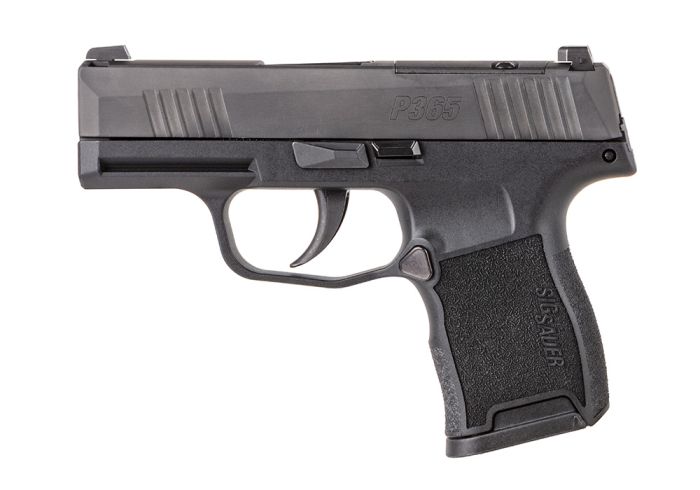 There you have it guys, our pick for the best red-dot ready 9mm concealed carry sub-compact pistols. If you own one or have shot one, let us know in the comments and tell us about your experience with it. If you are looking for a new carry piece, with these here you have some solid options. If you think we forgot a gun that should have made the list, let us also know in the comments and tell us what makes it so great that it should be picked as well.