We all love revolvers made from modern, high quality materials that are lighter, more ergonomic, and easier to use. Today's revolvers are a pleasure to handle, carry, and shoot.
On top of that, new revolvers are getting outfitted with the latest accessories, turning these ancient designs into modern shooting machines. I don't know about you, but slapping a red dot on a 6 inch barrel revolver was one of my childhood dreams.
This year looks to be a good one for revolvers. Some new revolvers graced the 2023 gun racks at Shot Show, while others received some cool upgrades that will keep them relevant.
It seems Rossi and Taurus dominate the market with their 2023 Shot Show revolvers, but there is enough variety in their options to keep us happy for now.
So let us take a look at some revolvers on display at Shot Show 2023.
The 856 and 605 may not be new designs, but these smart new TORO versions bring them into the modern world. TORO stands for Taurus Optics Ready Option. This is awesome news for those who want a revolver with red dot sight capability. It uses the HOLOSUN K footprint, so you will have plenty of red dot options to work with. The Shield RMSc footprint is also compatible with HOLOSUN K.
So how do you choose between the 856 and 605 TORO? When it comes to the frame, they are pretty much identical. Both have a stainless steel build with a 3 inch barrel and a weight of 23.5 ounces. Both are red dot ready for the Holosun K platform. So which one you go for really depends on which ammunition you prefer and how many rounds you want in the chamber. The 856 takes six shots of 38 special and will also be able to handle plus P rounds for some serious self defense use.
The 605 can load both 38 special and .357 Magnum rounds, so plus P will be no problem. The only drawback is the 5 round cylinder capacity. Keep in mind that .357 magnum rounds have twice the muzzle energy of .38 special rounds. If you want to pack some serious power, the 605 will be your better option.
I really like the look of the Taurus 605 and 856. The compact grips seem to provide a good hold on the gun, and they don't show a visible print. The excellent target style trigger allows for fast and accurate shots, so throwing a red dot on this will make it a deadly concealed carry revolver.
The 856 was the last gun to get the Executive Grade branding. Now it is The Judge's turn. The Taurus Judge was one of the top selling revolvers of 2010, which makes us all the more excited for the Executive Grade upgrade.
What is different about the Executive Grade, you ask? This branding brings some enhanced features to improve accuracy and comfort when firing the beast. The first feature worth mentioning is the hand fitted action. This greatly improves accuracy over the original platform; all you need to do is bring your shooting skills.
Taurus claims The Judge can hit targets out to 100 yards. The accuracy and power of this gun might make it your next hunting revolver, if the 5 shot capacity and 30 ounce weight work for you. Speaking of power, the Judge fires 45 Colt ammunition like a dream but that is not all. It can also handle .410 bore shotgun shells. If a
Another awesome addition is the high visibility brass front sight. It contrasts well with the stainless steel frame, so it really pops out when you line up the sights. Target acquisition and follow up shots are quick and natural with this sight. The custom trigger also helps keep the gun in line.
Beyond its fantastic performance, the Taurus Judge Executive Grade looks absolutely beautiful. The checkered grips are made from walnut and offer a nice, firm hold during the high power shots. The styling and presentation on the Judge are truly exceptional.
5: Rossi RP6
The Rossi RP63 is a mean little machine designed for concealed carry and quick draws. The 3 inch barrel is chambered in.357, so you can also fire a 38 Special from it. It also holds the full six shots we've come to expect from revolvers. It includes Rossi's prized double action trigger with an unbelievably crisp single action pull.
When you wrap your hand around the RP63's grip, you will feel how it has been optimized for concealed carry. It features a round butt rubberized grip so no imprint shows through your clothes while still keeping an ergonomic shape for handling. The Rossi RP63 is made to be very comfortable to hold and carry. It works with a number of concealed carry holsters. The fixed factory sights and ramped front sight reduce the risk of snagging on a quick draw. A very wise decision for a concealed carry revolver.
Another cool feature is the built in firing pin. This gives the Rossi RP63 maximum reliability with all types of primers. Rossi promises that the RP63 will be perfect for everyday carry, but you can also use it for home defense if that is what you like.
4: Rossi RM66
The Rossi RM66 is pretty much the big brother of the RP63. The frame, trigger, cylinder, and chambering are more or less the same. The biggest difference with the RM66 lies in the barrel.
It comes fitted with a 6 inch barrel, as opposed to the 3 inch barrel of the RP63. If you want something for everyday carry, the RP63 is without a doubt the better option. The RM66 hopes to fill the gap for competition and range shooting. The barrel will squeeze out the best possible ballistics from a .357 magnum round. If the fit and finish of past Rossi guns are anything to go by, the RM66 should have a well fitting barrel that is tight and accurate. Another change is the square grip configuration. This promises to make handling a breeze and keep you shooting down range.
If you are concerned about recoil, don't be. The full underlug barrel adds enough weight to keep the gun down and your shooting straight. Both the Rossi RM66 and RP63 look to be fantastic revolvers. The final decision comes down to your needs: hunting or self defense? If neither of these .357's catch your eye, there will be an in between. Later in 2023, Rossi will bring us the RM64, a 4 inch version that combines the best of both.
3: Diamondback Sidekick Birdshead
The Diamondback Sidekick Birdshead is likely one of the most interesting additions to this year's revolvers. It has a distinct design that is a combination of classical looks and modern materials. It is a good addition to the bigger version, the Diamondback Sidekick. The Birdshead, like its bigger counterpart, will have interchangeable cylinders from .22 Mag to.22LR.
.22s are notoriously low powered, so Diamondback countered this with a 9 shot cylinder in both chamberings. Considering this is intended to be a concealment or backup weapon, you want enough rounds for any situation. There are reports of a 2 pound single action pull, so you'll fire those 9 rounds off without a hitch. The swing out cylinder also has an extractor star and pushrod for quicker reloads. I wouldn't have high expectations for the accuracy of the Birdshead. It is clearly made for closer range shooting. This is evident by the 3 inch barrel and basic partridge blade sight on the muzzle. There is also a sighting notch on the top strap to get it properly lined up.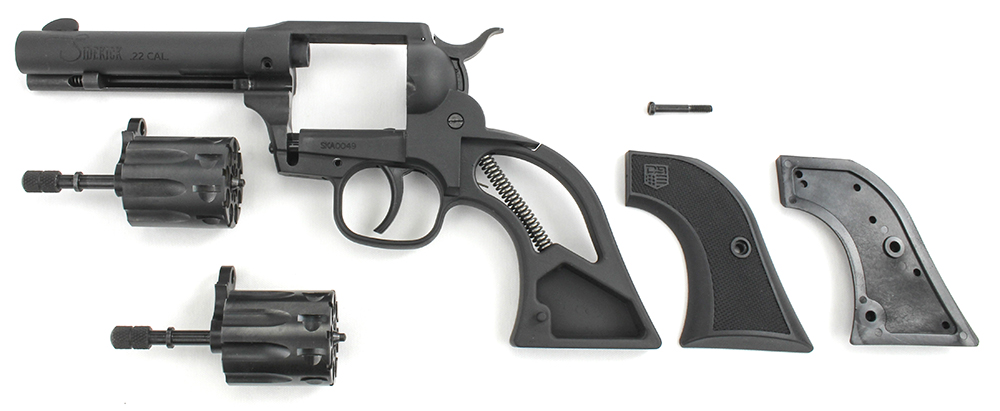 The Birdshead is an excellent choice for concealed carry. The steel barrel, cerakote finish zinc frame, and birdshead polymer grip frames keep this revolver small and light. All together, the gun weighs 23.5 ounces, so this is one you strap in and forget about. Of course, until you need it. It is worth mentioning that the birdshead retails for $327.
I saved the Taurus Raging Hunter series for last, purely because they are the biggest, baddest guns on the list. It is unbelievably sexy, especially the two tone gray and black variant. There is also a full stainless steel version available.
What sets the .460 version apart is the 10.5 inch stainless steel barrel. It looks to be dead accurate, especially when coupled with the unique muzzle brake and fiber optic front sight arrangement. Not only does this reduce felt recoil by an apparent 25 percent, but it will also keep the raging hunter right on target. Despite being very loud, the Raging Hunter has little recoil. You can also expect a lot more out of this than just a range gun. Its accuracy and power make it an exceptional hunting companion for some quick takedowns in the bush. The revolver holds five .460 Smith and Wesson rounds, but it can also hold .45 Colt and the weaker .454 Casull. The .460 has a powerful punch, but with smaller rounds, it probably feels like a peashooter.
There are also enough picatinny rails to kit the revolver out any way you see fit. Want a scope for serious long range shooting? Slap one on for an even deadlier Raging Hunter. 
Don't be surprised if you can't use this for everyday carry. It has an overall length of 16.22 inches and a weight of 71.2 ounces. That means it is deadly, even if you throw it at someone's head, although I would not recommend it.
1: Taurus Raging Hunter .500 Magnum
If you are looking for serious power, look no further than the Taurus Raging Hunter .500 Magnum. Did you know the .500 magnum is the most powerful production handgun cartridge on the market? Underneath the badass looking bonnet of the Raging Hunter lies an incredibly powerful beast.
It also handles this power well. The Raging Hunter is made to withstand hard use. The double lock system promises reliable cycling, even with high pressure magnum rounds. This insane power means it will drop game such as elk, coyote, and deer. You also don't have to worry about unethical shots. The target barrel crown offers enhanced accuracy, so you shoot exactly where you are aiming. The Raging Hunter .500 is available with three different barrel lengths. There are 5 inch, 6.75 inch, and 8 inch variants on offer, each with custom ports to reduce recoil. The heavy recoil is also aided by an unfluted cylinder, increasing weight to keep the gun in your hands.
Like the Raging Hunter .460, the 500 Magnum has top and bottom picatinny rails for accessory support. Another nice little feature is the cushioned grip for complete surface area contact. The Raging Hunter 500 only loads five rounds, but with the intense power, you should only need one, so long as you hit what you are aiming at.