The air pistols of today can be used for a lot of applications, including hunting, training, and competitions. They are available for every budget, and the market for them is expanding rapidly. That means, you get more and more models to choose from, and here are some of the best with which you can just not go wrong.
7. Benjamin Marauder Air Pistol
Selling for a little bit more than $400, the Benjamin Marauder air pistol comes with a lot of great features like the rifle, but it has a much more compact size. As a pre-charged pneumatic pistol, it has enough power to use it for hunting small game. The .22 caliber pellets are accelerated to 700 feet per second with 15.5 foot pounds of energy.
It uses the same 8-shot auto indexing circular magazine as the rifle to feed the pellets. This allows for quick follow-up shots whenever necessary by just manipulating the rear-mounted bolt. The trigger is adjustable and breaks very clean. A real plus is the built-in pressure gauge that lets you know when it is time to refill. The pistol comes with a shoulder stock that can be attached by swapping the grips. That gives you more support and thereby more accuracy especially when shooting a little bit further.
6. AirForce Talon P
For only around $500, the AirForce TalonP does not break you bank but brings a lot of power instead. That is no surprise as AirForce air guns are known for high power levels. In .25 caliber, the pre-charged pneumatic pistols achieves more than 50 foot-pounds of energy. This means that this bolt action single shot weapon is viable to even take out racoons and other critters of similar size. At the same time, it is a rather compact package over all.
The power can easily be tuned up or down with a selector that allows you to set the speed to whatever level you want from 400-900 feet per second. The Lothar Walther barrel is accurate to 100 yards and further if you set it to more speed.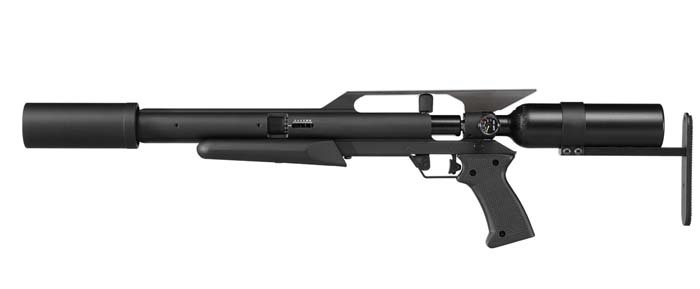 Such accuracy and power do come with a tradeoff. The reservoir sits at the back of the gun similar to a buffer tube on an AR15. This is just begging to be used with a brace, and there are adaptors out there converting it into a buttstock. For an air gun, it is actually pretty loud. That comes from the 12-inch barrel and the lack of any kind of suppressor or shroud that otherwise would soak up the sound.
5. Ataman AP16
The Ataman AP16 goes normally for around $1000 a pop. That is not necessary the most budget oriented offer, but it is a compact air pistol that brings enough energy to the table for hunting. That means, it is strong enough to humanely take out game.
It comes in .22 caliber and delivers a little more than 18 foot pounds of energy right at the muzzle. This makes it suitable for game up to 5 pounds. That means, cottontails or pigeons are what you can go for. The power comes from the stout but trim reservoir. This is located directly below the barrel, and it can hold air at up to 300 Bar. That equates to 4350 pounds per square inch.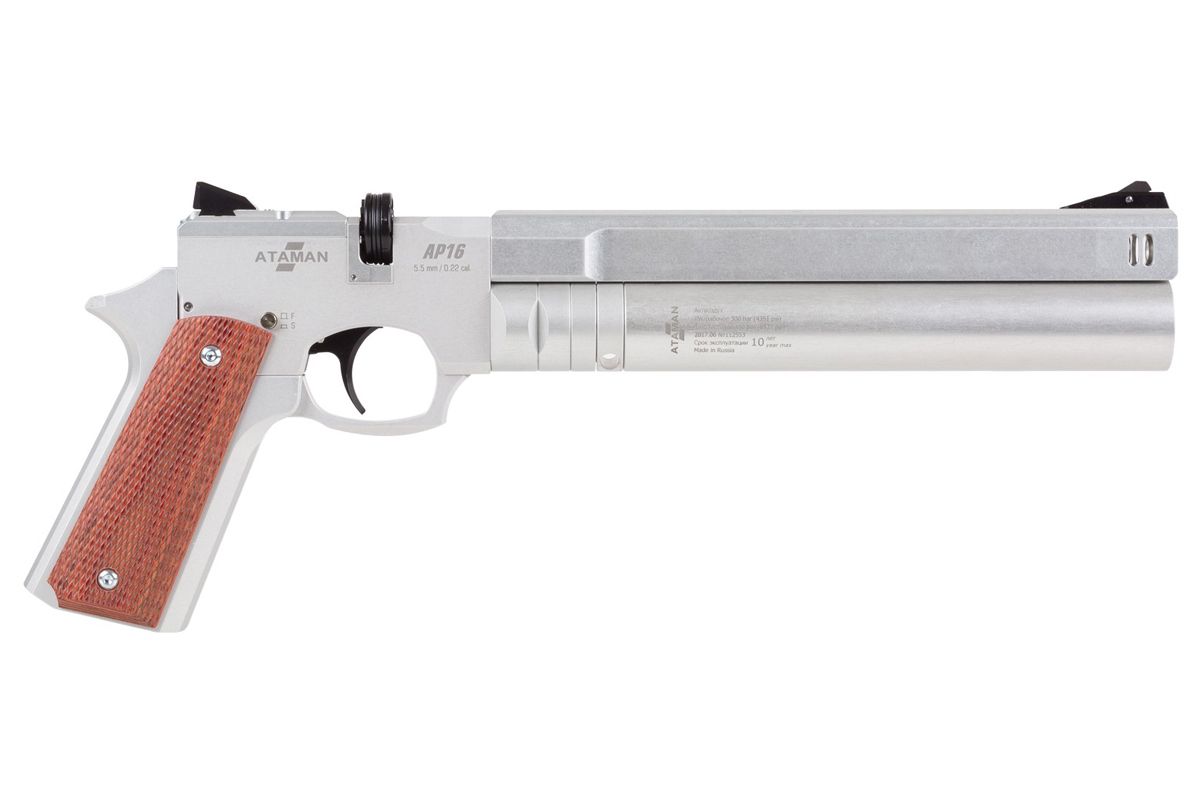 The regulator is able to easily handle this pressure and to deliver a consistent output shot to shot. The Lothar Walther barrel is free floating and the match-grade trigger is two-way adjustable. The lowest setting is 0.44 pounds making this air pistol extremely accurate. Thanks to an 11mm dovetail, you can mount a red dot or a scope, but you can easily just use the included sights.
The Air Venturi V10 Match Air Pistol sets you back around $270. That makes it very affordable. This air gun is just the right one if you want to start in this area and maybe even want to go into competitions. The ammo shortage has brought an explosion in interest in this market, and this gun is delivering what most shooters are looking for. OK, to be sure, if you want to go on an Olympic level, you might have to invest more, but for your local competitions, this is the go to gun.
It comes with a match-grade barrel, adjustable sights and also an adjustable two stage trigger. It can be set to break already at just .88 pounds of pressure. The system works with a single stroke pneumatic mechanism to propel the projectiles. This also means that you do not need any filling equipment or CO2 cartridges.
The grip is stippled and made from walnut. On the right sight, it features a large palm shelf that you can adjust for custom fit. Also, there is a thumb rest on the left to make for a secure grip.
Setting you back just $99, the SIG Sauer P365 Air Pistol is the perfect trainer for the firearm. With or without the ammo shortage, you will be hard pressed finding a pistol and ammo for less than the air pistol and BBs go for. What is even more intriguing is the fact that the P365 Air Pistol is modeled exactly after its 9mm counterpart down to a similar weight and feel.
It comes with a polymer frame and a metal slide which sports front and rear serrations operating with a full blowback system, quite like the 9mm model. The magazine of the air gun holds the CO2 cartridge with a weight of 12-gram and 12 BBs. That makes loading it like the real deal. You even get the same rail to practice with the same laser or light attaches as you would have on your carry gun. Right out of the box, it comes with green high visibility 3-dot fixed sights and a manual ambidextrous safety. The BBs get pushed to 295 feet per second making this air gun suitable only for training and paper punching. With it, you can build muscle memory for drawing and manipulating the controls without depleting your ammo stocks.
Starting at $500, the Hatsan Sortie Tact is a rarity when it comes to air pistols. It is a semi-auto system that has enough power to take out small game. A pre-charged pneumatic pistol, it was based on the technology of the Barrage and Bullmaster semi-auto rifles developed by Hatsan. While being compact, it still is able to accelerate a .22-caliber pellet to a speed of 700 feet per second generating more than 15 foot pounds of energy.
The 62cc reservoir is small but it feels quickly using a hand pump. With the abbreviated barrel, the report is still not too much as the full-length shroud soaks it up quite nicely. Another, quite cool feature, is the detachable side-folding stock. It gives you more stability when shooting, and it makes the gun look more like a personal-defense weapon.
On top of the receiver is a picatinny rail as well as 11mm and 22mm grooves to mount scopes. Of course, you can also just use the included TruGlo fiber optic sights which are detachable and adjustable. The pistol is delivered in a hard case with 3 magazines making it possible to empty the reservoir quite fast.
The Umarex Beretta M9A3 Full-Auto is not only gorgeous looking, it is also affordable with a price tag of only $130. It is meant for training and paper punching as it lacks the power for anything more serious. However, it is not just an air gun clone of the Beretta M9, but a full auto version of this gun. That means, you can just flip a switch and unleash a real stream of BBs.
It is a licensed replica mimicking the real thing in almost every detail except for one thing. You can send all the BBs in the magazine, all in all 18, with one squeeze of the trigger downrange. To make it feel real, it comes with a metal frame that also gives it a realistic weight and balance. Also, using single or double action is just like the one of the original, and the manual safety is authentic as well. The recoil is of course not the same, but the slide features a realistic blowback action. The magazine is drop-free and contains the CO2 cylinder with a weight of 12-gram and of course the 18 BBs.
If you own any of these beautiful air pistols, let us know in the comments and tell everyone how they shoot. If you are looking for a new one, you cannot go wrong with these models. If you think, we forgot one, tell us in the comment, and also tell us what makes it great.