When you are looking for a 9 mm compact handgun, you are lucky and unlucky at the same time. You are lucky because they can be found practically everywhere, but you are unlucky as the number of choices make it hard to decide for one of them.
The good news is that compact 9 mm handguns offer you the best of all. They are small and can easily be concealed. They are light, so it is no problem to carry them the whole day and that every day. On the other hand, they are not so small to make it hard to shoot them.
Especially the caliber of 9 mm makes it a good choice. You get a ton of ammo options from cheap to expensive, from low recoil to +P+. Advances in technology have increased the effectiveness of the cartridges to a point that it makes mostly no sense anymore to go for something bigger that is also more expensive and much snappier.
For the same reason, the cost of shooting 9 mm is not too high while the availability of this caliber is just great. From their size, these guns sit in the Goldilocks zone between full sized pistols that are too big to carry concealed and sub-compacts that make it hard to hit anything.
Have you made up your mind to go for 9 mm in a compact handgun, you are standing in front of this great range of options. What helps you now is to look for a few factors that make a great self-defense gun for concealed carry. That starts with the sights. While iron sights are great, most shooters are able to get a hit faster with a red dot. There are pistols that come ready to accept one of those.
Some people do not like the thought of carrying a handgun that theoretically can go bang anytime. They want something with external safety. For that, there are different options from a bladed trigger to a thumb safety or a grip safety. The bladed trigger stops the gun from firing in case you drop it. The thumb safety needs to be disengaged with your thumb before you can fire the gun, and the grip safety does the same like the thumb safety, but you disengage it by having the right grip on the gun. This way, you cannot forget to disengage it when you want to shoot.
The Glock 19 just has to be on this list as it is the standard against which all other concealed carry weapons are judged. Talking of the G19, of course it is the Gen 4 that you should be going for. If you asked yourself why, the answer is very easy: because it works. This is exactly what you need from a gun that you are planning to defend your life with. It does not matter what you do to this pistol. Bury it in mud, put it into the freezer, submerge it into water, in the end, it will just go bang when you pull the trigger.
Not only does it endure all this and still work reliably, it is also accurate, and you get a lot of aftermarket support for it. Last but not least, you get a capacity that is not to sneeze at. There are 15 rounds in the magazine and 1 in the chamber. That will be enough for most of the possible self-defense scenarios out there.
Looking to buy one of these and you cannot find a Gen 4? No problem, you can easily just take a Gen 3 or Gen 5. Either way, you get a gun totally worth its money.
With the XD(M) in 9 mm, Springfield armory brought us a compact concealed carry gun with a good performance and a great look. It comes with a grip safety. This way, you do not need to engage or disengage a thumb safety while at the same time you do not need to live without one. You get the best of both world, instant readiness paired with safety against unwanted shots.
The capacity is just 13 plus 1 round, but that should be plenty for most situations. You do not get a lot of aftermarket support, but you do have a good choice if you decide that Glock just is not the right thing for you.
What the Walther PDP brings to the table is a really impressive design that has gained quite some popularity. It is available in different variants and models, and comes with a capacity of 15 plus 1 round. The grip sports aggressive texturing making it easy to manage the recoil. Also, the slide serrations allow it to manipulate it without any great effort.
If you shoot this gun, you will immediately notice that it has one of the best triggers you can find. Also, the grip angle makes it intuitive to point the gun right on target and comfortable to shoot. To complete the picture, this pistol is also extremely reliable and accurate. For those who want to install a red dot sight, it is also ready from this right from the manufacturer.
Taurus is a manufacturer that is loved and hated. Loved for a few great guns that are quite affordable and hated for other guns that jam time and again. However, with the G3C, you cannot go wrong. This is an awesome piece for an equally awesome price.
While the G3C in many ways resembles the G2C, for example in its specs, it does add some nice features. These are better slide serrations, a better mag well and the sights. You might think that this is not enough, but for the price of this gun, you cannot complain. Interesting is that it does accept the magazines of the G2C and the P226.
FN is known as a manufacturer for quality guns, and the FN 509 is no exception here. In fact, this great compact polymer pistol is the result of the Army`s MHS contract that FN tried to win. Failing in that, they released the FN 509 to the civilian market that welcomed it with open arms.
You can get it with different mags with the capacity ranging from 10-15 rounds plus of course 1 round in the chamber. Its quality, reliability and accuracy convinced the LAPD which introduced it as the new duty gun.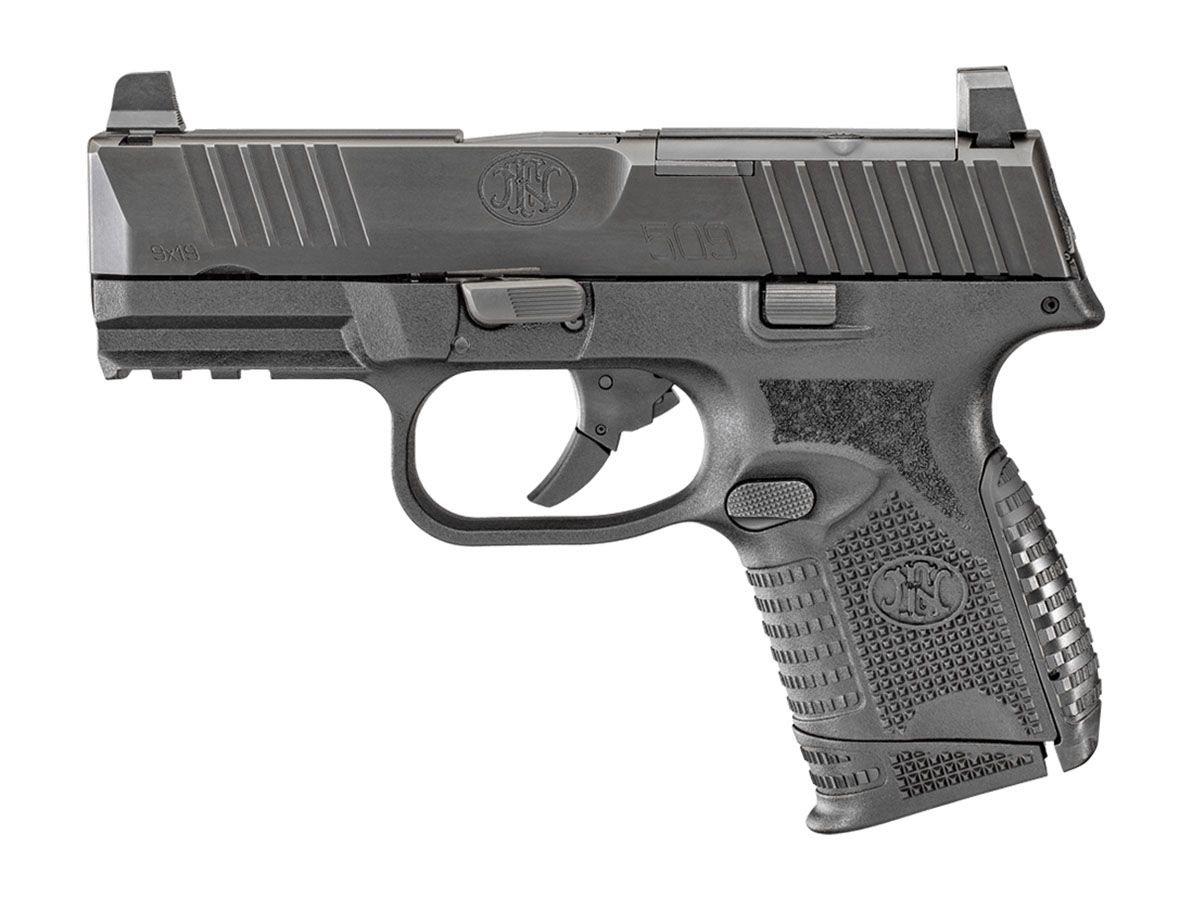 The Smith & Wesson M&P9 2.0 Compact is a great gun for self-defense and concealed everyday carry. It comes with a great feel when you hold it in your hand, and it also looks great thanks to its black or FDE finish.
Firing this gun, you will notice that the trigger is great, and the grip angle just allows you to achieve great precision with little effort. The texture makes it easy to get a good purchase, and the action itself runs smoothly. Overall, this pistol is solid and super reliable.
When it comes to self-defense, one attribute in a gun beats all others, and that is reliability. The HK VP9 gives you exactly that. Reliable and durable, it will always go bang when you pull the trigger. It comes with good ergonomics, and it is a nice pistol that you can use if you feel that Glock is not the way you want to go.
The VP9 also handles well when you shoot it, and it makes it easy to hit the target with only minimal training. It can accept magazines with a capacity of 10, 15, or 17 rounds, so you have enough options.
What is not that great is the aftermarket support, but that is not always a big thing as it is about the gun and its ability to reliably be used to defend yourself and your love ones with it. This means, it is actually self-defense and not a ton of gimmicks you are looking for, you can count on this pistol.
The Sig Sauer P320 is a star by itself in the world of concealed carry guns. You can see that by the amount of aftermarket support and options that you get when buying this gun. With it, you get a really solid pistol that is accurate, easy to shoot, and comfortable to handle. For the capacity, you can choose between models with 10 round mags and those with 15 rounders. Do not forget the additional round in the chamber. Also, there are red dot ready variants.
If you are a purist and just look for a solid self-defense choice, go for the basic model. If you like to tune you gun, you will find fancier models and a lot of stuff to add to it.
Compact 9 mm are very good for everyday concealed carry. They are also a good starting point for new shooters. They are big enough to be easy to shoot while at the same time small enough to be easily concealable.