We will indulge ourselves by looking at a few high-end PCP air rifles. By that, I mean air rifles with the price of over $1,000.
Of course, you are going to get a diminishing return on your gun since it can only get so good. The jump from $200-$800 air gun in terms of performance might be noticeable, but you might not notice much of a difference. But air gun enthusiasts are willing to spend a bit more cash to get the best air gun even if it means the performance difference is marginal.
Then there are also luxury models, which cost a lot more, but usually do not give much in terms of performance, so we won't talk about those in this post. It must be said that if you spend this much money, you are going to get a gun that can shoot better than you. At the very least, for a gun at this price point, you are almost certainly not going to be using a hand pump.
Keep in mind that the price is for the gun only. Most manufacturers do not include accessories or even a scope with a rifle this expensive. Why? Well, the bundled scope and assorted accessories with cheaper guns are there to sweeten the deal. Plus, those accessories are passable at best in terms of quality.
If you can afford a high-end air gun, chances are that you either have equally high-end accessories such as a powerful scope, or you can afford to buy those accessories. In the end, you might have to double your budget to accommodate all other accessories you would be kitting out your gun with.
But that's enough theory crafting. If you are in the market for some top-notch air gun, you have come to the right place. In no particular order, I have here five air guns that are definitely worth the money, if you can afford it. As per protocol, the links to these products are in the description below, so make sure to check it out.
As the name suggests, it does not chamber smaller pellets. It only takes .30, .357, or .45. In other words, you definitely do not want to use this for small game hunting since it will just tear your target apart. The design is, again, reminiscent of the Ljutic Space Gun .It can spit pellets up to 1,130, 1060, and 935 fps ( feet per second) respectively. In terms of power, you get 140, 165, and 400 foot-pounds of energy behind the pellets, in that order.
So, what else can you get from this chunky air gun? You get a 490cc gas tank that can power about 10 shots at maximum power, which is one of the biggest drawbacks of this gun. But then again, this gun is pushing large pellets. It can't push many pellets without needing a refill. But you can tinker thanks to the adjustable power feature to get more shots from the tank at lower power.
In terms of accuracy, it rifled 25-inch rifled barrel delivers pinpoint accuracy. In terms of comfort, you get your classic ergonomic textured ambidextrous grip and an adjustable buttplate. You get a healthy amount of rail to mount all kinds of optics. The two-stage adjustable trigger feels crisp and satisfying. The synthetic stock keeps the weight down and the color black guarantees tacticool value. Oh, and it comes with a fully-shrouded barrel to keep the noise down.
Overall, the gun is very well built and very accurate. It is easy to use thanks to the simple user manual. With a bit of time behind the gun, you can nail your shots like no one's business.
The Brocock Concept Lite is designed in a semi-bullpup configuration. It is a tactical-style PCP rifle that chambers .177 pellets, which it can spit out with 18 foot-pounds of power behind it. You get a 180cc gas tank that can push 85 pellets out at max power before needing a refill. In the rotary mag, you have 10 shots. You also get rails to kit your gun out.
How does it handle? Like a dream, which is expected at this price point. It is fun and easy to shoot. The gun has a bit of heft to it, but it's the good kind of weight. It feels solid and well-balanced in your hand. The build quality is excellent. It is accurate with a wide variety of pellets. If you missed your shot, it's either you or your cheap pellet.
There are a lot of customization options for this gun, so you can really make this gun your own. If you love the tactical dark color scheme, you will love this gun.
This gun appeared in one of our latest episodes, and the list would not be complete without a gun from Weihrauch. If I have to choose one gun from that German manufacturer to put on this list, I would choose this one. It's a German build, so you know what to expect.
It is priced pretty low on our price spectrum, but that does not mean the gun is of bad quality. What you get is a PCP air rifle with the classic aesthetic thanks to its wooden stock and metal construction. The gun feels nicely balanced in your hand and the overall finish is just excellent.
In terms of performance, it is deadly accurate. This gun can spit either .177 or .22 pellets with 18 and 27 foot-pounds of energy respectively. The high-capacity rotary mag allows for quick follow-up shots if you missed your first one. That way, you can still nail your target before it gets away. The gun is also pretty consistent in terms of power, thanks to the regulated action.
Overall, this is a relatively affordable gun that still delivers a remarkable performance consistently. To put it bluntly, it punches above its weight and it would still be a solid option even if it is priced higher.
The FX Dreamline is a PCP rifle that chambers .177, .22, .25, and .30 pellets. Its design is similar to the Ljutic Space Gun, which we have already done a post on. The Dreamline's most notable feature is its stock design. All features on this gun were built with efficiency in mind. You get a high-capacity rotary magazine, Smooth Twist X barrel system, AMP regulator, and top-of-the-line trigger.
Put all that together and you have a super-accurate gun that nails that tight shots group. The cocking action is excellent and the gun is overall very consistent. The AMP regulator can be adjusted even with air still in the cylinder. It might look flimsy, but the overall build quality is solid and this gun packs a hefty punch.
Overall, the gun is a great value. It is versatile, lightweight, and pulling the trigger would never feel the same again after you've tried this one.
First thing first, this one is available in all the popular caliber. You can get it in .177, .22, .25, and .30. For each variant, you have the option to choose between 600mm or 700mm barrels if you need that extra bit of accuracy.
The gun features FX's STX barrel system, AR-15 style Hogue pistol grip and manual safety, a shrouded barrel, a fixed and stackable moderator system, a generous magazine capacity in its rotary mag, and an equally generous amount of air in the carbon fiber air cylinder, as well as rails topside and behind the tank for all sorts of accessories.
There is a plethora of other features, but we would be here all day if we had to go through every single one of them. So, make sure to check out the link in the description if you want to know more about the technical stats.
One thing I have to mention is that this gun is the most expensive out of the bunch today. You are looking at a gun that costs an upward of $2,000, and that is without accessories. If you put some high-quality accessories on it, maybe it will push the price close to $3,000.
Is it worth the price tag? Yes. The gun is very well made and it is super accurate. It will last you a long time and its overall build quality and performance more than justifies the price tag. The aftermarket customization options and flexibility give you a lot of ways to make the gun truly your own.
Do I recommend it? Well, I hate to answer a question with another question, but can you afford it? If not, you are better off using other guns on the list. Plus, if you want this gun, you have to wait in line. The stock for this thing is apparently low, and you might have to check diligently every day to see what they actually have in stock.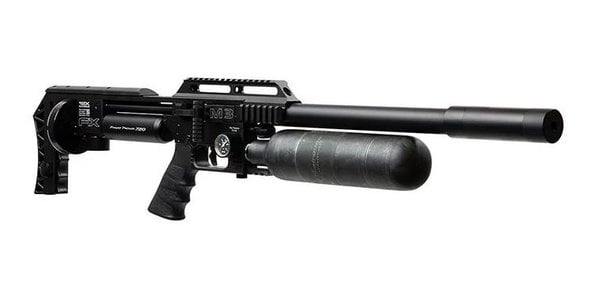 Conclusion
If you are wondering what gun among these would be best for you, I would say that whichever you like best, and also which one that you can afford. These guns have stellar performance, so it all comes down to personal preference. Keep in mind that you have to buy scopes and other accessories to bring out the best in this gun, so make sure to account for that when planning your budget.