It was at SHOW Show 2020 when Palmetto State Armory — or PSA — announced the PSA JAKL, a 7.5 inch barreled AR style pistol chambered in .300 Blackout. To say it built hype among its loyal customers is putting it mildly. I know because me and my buds waited for it with bated breath.
Yes, PSA did generate a lot of excitement in the firearms community when they started teasing their PSA JAKL three years ago. It was going to be a new and innovative rifle that combines certain elements of both the AK and AR platforms to create a hybrid rifle that was ideally going to be the best of both worlds. People were intrigued by the design and capabilities of the JAKL and eagerly awaited its release, and when it finally released, everyone wanted one.
As of the making of this topic, all JAKL rifles are sold out. PSA is having difficulty restocking the rifles because they're selling like hotcakes. Many firearms enthusiasts believe it's the MUST HAVE GUN of 2023. If you've never heard of it and you want to know what the buzz is all about, stick around to the end of this topic.
DIMENSIONS AND FEATURES
The PSA JAKL's barrel is made of 4150V chrome moly steel with a nitride finish. There are two available chamberings, but as of the making of this topic, there is only one barrel length available for each chambering. The one in 5.56 NATO has a length of 10.5 inches, a 1 in 7 rifling twist rate, and a muzzle thread pitch of one half by 28 which means it'll accept any one half by 28 muzzle device.
The one in .300 Blackout has a length of 8.5 inches, a 1 in 8 rifling twist rate, and a muzzle thread pitch of 5 eighths by 24 so it'll accept most 30 caliber muzzle devices. But both will come with an A2 style flash hider.
The JAKL's front trunnion is made of 8620 steel, the bolt carrier is made of 4340 steel, and the bolt is made of Carpenter 158 that is 7 lug shot peened, engineered for durability. The bolt carrier, recoil assembly, and sled assembly can be removed and cleaned without the use of any tools, making maintenance and cleaning a breeze.
The upper receiver is a monolithic design machined from 6105 aluminum, black hard coat anodized for added protection. If didn't know, a monolithic upper receiver integrates the upper receiver and the handguard into a single solid piece.
This design provides increased stability, which means you don't lose zero as there is no movement between the handguard and the upper. This monolithic design also allows for easy integration of IR lasers, which not all people would be interested in, but it is what gives the PSA JAKL its aesthetic appeal. Without its pistol brace and with its FDE finish, the JAKL bears an uncanny resemblance to the FN SCAR, which is one of the reasons why it's selling out fast.
As for available finishes, the PSA JAKL can be purchased in four different colors: Black, Smoke, OD Green, and Flat Dark Earth. If you're buying the complete rifle, which, again, you probably won't be able to because they've been out of stock for a while, it will come with a single Magpul PMAG 30 round magazine for whichever chambering you choose.
RECOIL SYSTEM
For the benefit of our viewers who have no idea about rifle recoil systems, I want to touch on the subject real quick so they can follow along.
The direct gas impingement system typically found in an AR cycles the action by using hot gas from the firing of a cartridge to push the bolt backward directly via a gas tube. A gun that uses this system is typically lightweight because it has the least amount of moving parts. Also, the direct impingement of gas onto the bolt results in a more consistent cycling of the action which leads to more accurate shots.
But it has some downsides. All the hot gas directed into the receiver can generate a significant amount of heat. Also, all the residue from the hot gases can accumulate in the receiver, leading to fouling, jams, and malfunctions, which is why guns that use this system require regular maintenance.
By contrast, a piston driven system is a much simpler design. The hot gas from the firing of the cartridge drives a piston backward, which pushes the bolt carrier and cycles the action. Because some of the hot gas escapes through the ports on the gas block, this system generates less heat and has practically zero fouling and malfunctions. Guns that use this system are often more reliable and require less maintenance.
There are two types of piston driven systems: a long stroke, and a short stroke.
The main difference between a long stroke and a short stroke system is that in a long stroke, the piston is attached to the bolt, which makes them a single piece. Because this system has fewer moving parts, it is more reliable, more affordable to manufacture, and easier to maintain. But the pistol and bolt combo is heavier and generates more momentum which translates to more recoil impulse. The AK and the PSA JAKL use this system.
In a short stroke, the piston isn't attached to the bolt. The bolt is a separate piece which makes it lighter, resulting in less momentum and less recoil impulse. But because the piston and bolt are separate, this system has more moving parts, making it less reliable, more expensive to build, and much harder to maintain than a long stroke system. The FN SCAR uses this system.
THE BEST OF BOTH WORLDS
There are a lot of things to like about the AK, and the PSA JAKL takes those things and integrates them into an AR style rifle. But PSA also added some other cool features to the JAKL that you don't typically see on both the AR 15 or the AK.
One such feature is the ability to shoot it while it's in the folded position, which you can't do with a standard AR. It's because of how the buffer spring mechanism was designed on the AR platform, where the stock is mounted on the buffer tube. There are companies that make adapters that let you install a folding stock on an AR 15 so it's not a practical reason to buy a PSA JAKL.
Another great thing about the AK that PSA incorporated into the JAKL is its long stroke piston driven recoil system, which as I mentioned earlier, runs cleaner and isn't as difficult to maintain as the gas impingement system commonly used by ARs.
But there are a few downsides to the AK that thankfully, the PSA JAKL doesn't have, the biggest of which is the AK's recoil impulse. Make no mistake, I'm not saying the AK has a heavy recoil because it doesn't. The 7.62 is nowhere near as powerful as something like the .308.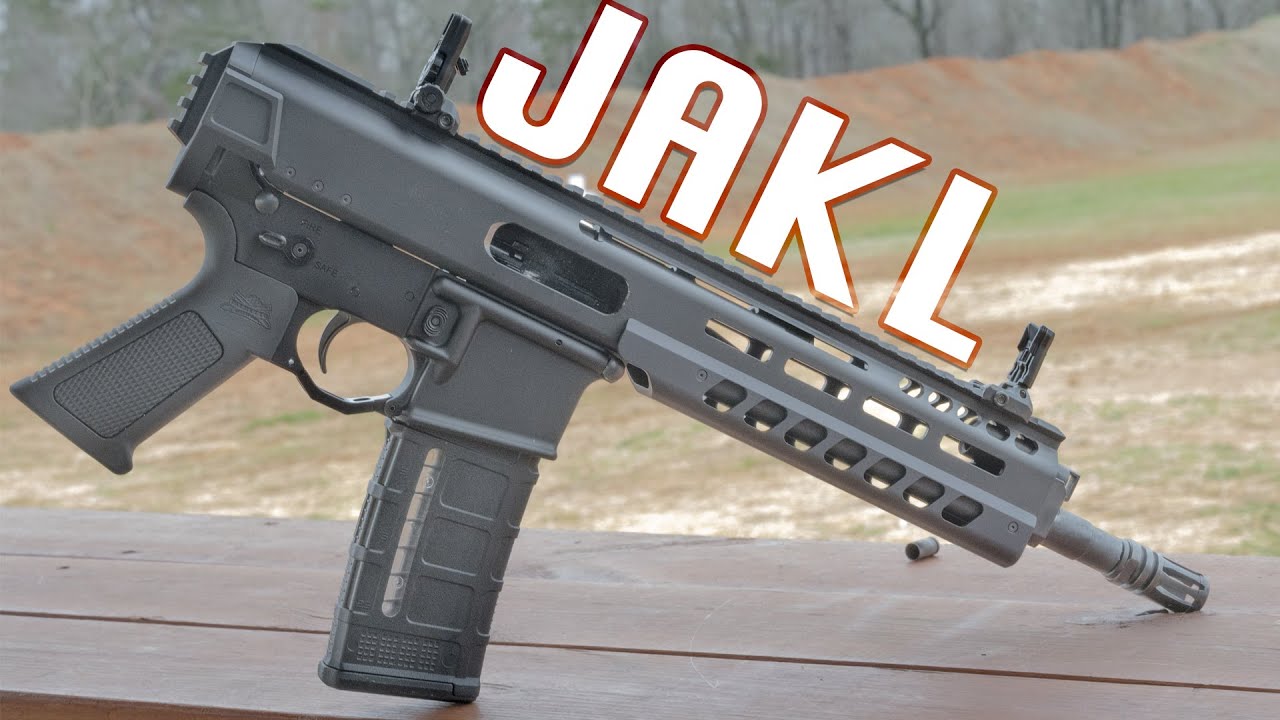 But if you take a look at this topic from Larry Vicker's channel where he recorded the AK 47 being fired in slow mo with the dust cover off, you'll see that the movement of the piston in an AK rifle causes a bouncing and bobbing up and down motion, which results in that bouncy jerky recoil.
PSA solved the bouncy jerky recoil issue in the JAKL by doing two things. One, they created a perfect linear action cycle that prevents the piston from bouncing. And two, they added an adjustable gas system not too different from aftermarket solutions for the AK being offered by Definitive Arms, Occam Defense Solutions, and Rifle Dynamics.
PSA's adjustable gas system has four positions for different purposes. You can use a screwdriver, you can use a 223 or 556 round, or you can use a punch, just stick it through there and you can adjust it that way.
What this does is it allows you to fine tune the gas release so that it doesn't drive the piston with too much force and just give it enough of a push to cycle the action properly. This adjustable gas system also makes the PSA JAKL a good host for a suppressor.
Now I understand some of you macho men in the shooting community enjoy recoil because it makes you feel good about yourselves. As a madman, I can assure you, I can relate. I appreciate the "No pain, no gain" axiom just as much as you do. But in a situation where I need to defend myself with a firearm, being a recoil loving macho masochist won't help me one bit. So if I have to choose, I'd rather have a gun with minimal recoil.
Another thing not to like about the AK is its controls and switches. In particular, the safety mechanism is located on the side, which you can only operate with your index finger, whether you have to engage it or disengage it.
It's a lot different than the safety mechanism on the PSA JAKL because it is an AR. It has an ambidextrous system that allows you to engage or disengage the safety with your thumb or your index finger.
There's also that issue with the AK's mag release, which requires you to either hit it with another magazine or pinch it with your thumb. And then there's the problem with how you should insert the AK's magazine. It requires you to hit it at the correct angle to pull it down so you're able to seat it properly. It involves way too much effort and fine motor skills and you need hours and hours of training to be able to work it properly. The PSA JAKL doesn't have those magazine issues.
And lastly, the AK doesn't have a last round bolt hold open feature. The AR 15 was originally designed to have a last round bolt hold open feature which lets you know that your gun is out of ammo and makes it easier for you to reload quickly. Granted, the design and implementation varies between different AR models, but it's a standard feature on most AR 15s which is why it's also a standard feature with the PSA JAKL.
PRICE AND AVAILABILITY
If you decide that you want a PSA JAKL, the MSRP for the complete build is $1,100, but there's a pretty good chance that when you go to PSA's website, they will still be out of stock. If that is the case then you have to wait. Or do you?
No, not really. Unless they'll go out of stock too, you can just buy the PSA JAKL upper for $649.99, and you can just install it on your existing AR 15 lower, if you have one. The JAKL is as modular as the AR 15, so you'll only need the upper.
But it does come with a few proprietary PSA parts exclusive to it, and you'll need to purchase those in addition to the upper. One of them is the proprietary bolt catch, which thankfully, is already included with the upper when you purchase it.
This proprietary bolt catch is a bit slimmer and thinner compared to the bolt catch you'll find in a standard AR 15 lower, and before you can install it on your lower, you'll need to remove your standard bolt catch first.
The PSA JAKL's internal buffer system also has a whole host of proprietary components that have to be installed on the back of the lower receiver one by one. It is this buffer system that allows the JAKL to shoot while it's in the folded position.
The installation of this buffer system starts with the proprietary threaded adapter, continues with the takedown pin, and is followed by the proprietary stock adapter. The buffer ring and the flathead screw are then added to complete the installation. The proprietary stock adapter includes Picatinny sections for a pistol brace or a stock if you decide to SBR it.
Apart from that, the upper will work on any AR 15 lower, which is fantastic. And you don't even need to use JAKL's specific stock adapter. A stock adapter from KS Arms which they designed for the BRN 180 will work in a pinch, the only issue with it is it doesn't have the shielded sections found on the JAKL's adapter. If you use KS Arm's stock adapter, your PSA JAKL has the rear portion of its upper exposed.
No big deal, it will still operate smoothly, but dirt and debris can get in there, not to mention without the shield, it kinda looks ugly. That's why PSA created its adapter with a protective shield on the top and sides.
ISSUES
There aren't a lot of issues with the PSA JAKL, besides maybe three things that I think are all relatively minor. One, the pistol brace that comes with either the complete builds or the lowers is too bendy for people's taste. But this ties into the next issue, which is…
Two, the JAKL is only available in pistol barrel lengths. PSA should release a 16-inch barrel chambered for both 5.56 and .300 Blackout so people can purchase a proper stock without having to pay the obligatory $200 tax stamp to SBR the damn thing. And three, the stock trigger is okay but it's the first thing you should replace. A Geissele Super Semi Automatic Enhanced will be a good fit.
If you've made it this far, tell us whether you're interested in a PSA JAKL. Or if you happen to be one of the lucky early adopters, tell us how you like it.