we want to take a look at carry guns for every income level. This means, we have in our list the guns for you no matter if you want to go for a budget weapon or a fancy piece with all the bells and whistles.
Self-defense, home-defense, the defense of your loved ones does not have to be something that only the rich can afford. You do not have to cash out a month's income or more to afford a firearm. At the same time, if you can afford to go for more, you do not have to go the budget route as much as you do not drive a tiny small 10 year old car when you can get a big shiny new SUV or truck with ridiculous mileage per gallon. The right gun has to fit your needs and your financial possibilities and here is a list with some of them that will just do that.
The Taurus G2C is a solid budget-oriented choice. You can get one for $250 or less. Granted, sometimes, Taurus guns are not necessarily recommended for their reliability, but truth be told, if you put the time in to get some rounds through it and to find the ammo it feeds well, you have a gun that will not disappoint you.
You can get the G2C chambered in 9mm Luger or in .40 S&W. For the 9mm variant, the capacity is either 12+1 as a standard or 10+1 for compliance models. For the .40 S&W variant, you get a capacity of 10+1.
What makes this gun great for carry besides its price and performance is its size and weight. With an overall length of just 6.3 inches and weighing 22 ounces unloaded, it is easy to conceal and comfortable to carry all day. At the same time, it is very rugged and durable, and its ergonomic design makes it easy to shoot.
The gun ships with 2 magazines and you aim with a fixed front and adjustable rear sight. You get an accessory rail in front of the trigger guard for lights and lasers. Also interesting is that this gun has a re-strike capability should it fail to set off the round. The stainless-steel barrel has a length of 3.2 inches, keeping the size down while still giving a good performance.
Safety features include a loaded chamber indicator, a manual safety as well as a striker block and a trigger safety. Overall, this gun is not only good for carrying. It actually does a little bit of everything, so it shines also on the range as well as in the house to fend off intruders.
The Walther PPS M2 is a single stack super ergonomic and super concealable pistol. It is very accurate and can withstand use and abuse without a problem. In fact, the PPS series was the first single-stack polymer concealed carry gun that started the trend for these little pistols. Now, with the M2 version, it is more refined and more adapted to the task.
Being very thin, it still provides a lot of grip surface to guarantee enough control during shooting. The recoil management is helped by a higher grip with an undercut trigger guard. The inherent accuracy of the gun comes from the Walther barrel and the internal steel chassis. This ensures a great slide to frame fit.
Chambered in 9mm, it comes with a capacity of 6, 7, or 8 +1 depending on the magazine you use. The barrel has a length of 3.2 inches, and the overall length is 6.3 inches. The empty weight stands at 19.4 ounces.
The Ruger EC9s reminds you of the LCP. It is also a very small gun, but contrary to the LCP, it is chambered in 9mm. It can be had for an MSRP starting at $349, so it is a very affordable option. If you ask for an outstanding feature than the answer would be the wide range of colors it comes in. If you want to use it as a gun for a guy, take it with a Black Oxide finish. If it is for your wife or your grown up daughter, get it in pink. Apart from this, there are many other options available as well.
The capacity is 7+1 no matter what color you choose. The grip and frame are made from glass filled high performance nylon, and the slide is made from through hardened alloy steel. The alloy steel barrel has a length of 3.12 inches, and the overall length of the gun is 6 inches. That means, it is very compact what is also helped by its width of 0.9 inches. The empty weight is just 17.2 ounces.
The pistol is striker fired and features a short, light and crisp trigger pull that allows for accurate first and fast follow up shots. The checkered grip frame does not only provide a good grip but also a secure hold during shooting what is important especially when you want to put more than one round on target.
The sights come machined integrally with the slides, and they feature rear-facing serration to reduce glare. When it comes to safety, the gun has a magazine disconnect, manual safety, and an integrated trigger safety. Also, there is an inspection port to visually confirm if the chamber is loaded or empty. The gun ships with one 7-round magazine.
If you want to go really small but do not want to give up capacity, the Ruger LCP Max is a solid option. It is chambered in .380 ACP, but you get it with 10 or 12 rounds in the magazine. Add one more in the chamber, and you have 13 rounds available. For that, the gun is a really small package with a slide width of only 0.81 inches and a barrel length of just 2.8 inches. Also, as the round is weaker, it makes for a really light gun with a weight of 10.6 ounces.
Despite its higher capacity, the LCP Max is almost as small as the LCP II. Only the grip is a little bit bigger in order to accommodate the increase in capacity, but that is not a disadvantage. With more real estate to hold on, this gun is very easy to control during shooting. The highly visible sights allow for a quick acquisition of a good sight picture in all light conditions. The magazine release can be reversed, and the Secure Action trigger sports an integrated safety. All of that can be had for an MSRP that starts at $479 with retail prices being in the area of $300.
The Taurus GX4 T.O.R.O. is a micro-compact handgun chambered for 9mm. It has a capacity of 11+1 rounds, and it comes optics ready. T.O.R.O. stands for Taurus Optic Ready Option that allows mounting a wide variety of red dots. All of this can be had for an MSRP of $449.99.
If you do not want to install an optic, it comes with a flush-mount slide cover plate right out of the box. Besides the 11-round magazines, there are 10-round compliance options and 13-round extended magazines available. The whole gun offers minimal printing when you carry it under light clothing while it provides you the firepower you need.
Aiming is done with a fixed front sight and drift adjustable rear sights if you choose not to go with a red dot. Thanks to the easy take down pin, disassembly is intuitive and can be done in seconds. As special features, the gun comes with a flat face serrated trigger to allow better control during shooting. The mag release is reversable.
For the size, the barrel comes with a length of 3.06 inches with an overall length of the gun of 6.05 inches. The unloaded weight is a little bit less than 19 ounces. For the safety, it features a striker block and trigger safety.
Not everyone likes to carry a semi-automatic, and the good news is that there are a lot of good revolvers out there that will do an excellent job as a carry gun. The Ruger LCR is such an example. It comes with a ton of options and a lot of firepower. You can have it as a real snub-nose revolver. In this configuration, it comes without an external hammer to make for a snag-free draw when carrying it concealed. In this variant, it weighs only 13.5 ounces, and it comes chambered for a variety of cartridges. This includes .22LR as well as .38 Special +P, .357 Magnum, and even .327 Federal Magnum. You can also get it in 9mm. For .22LR, the capacity is 8 rounds. For .327 Federal Magnum, it is 6 rounds. For all other chamberings, you get 5 rounds.
If you do not like a revolver without external hammer, go for the LCRx. Here you do not only get the external hammer, you can also choose a variant with a 3-inch barrel. Add to this one more chambering, .22 WMR, and you have some more great options.
The MSRP starts at $739. For that, you get a friction reducing cam for a really good non-stacking trigger pull, a polymer control housing for reduced weight, and an extensively fluted cylinder. Right from the factory, it comes with the Hogue Tamer Monogrip that can be changed for a variety of other grips.
While there are shooters who do like to go for a revolver for self-defense, they are not always convinced by a capacity of 5 rounds in the cylinder. Here, the Kimber K6S helps. Its cylinder holds 6 rounds of the mighty .357 Magnum. This is a very strong cartridge, and it is hard to argue with its power especially when you get 6 of them in your revolver.
What makes the Kimber K6S even more attractive are the options you get. You can get it as a pure snub-nose including the omission of an external hammer. You can have it with an external hammer, and even with longer barrels of up to 4 inches. This gives you some value for your money what is important as the MSRP begins at $1194.
A really great gun for concealed carry is the original Smith & Wesson M&P Shield. This is a micro compact carry gun which is very popular, and can be had either chambered in 9mm or .40 S&W, and it sits in the middle between budget friendly and fancy with an MSRP of $536 for the 9mm version. For this price, you get a striker fired handgun with a polymer frame and a stainless steel barrel with a length of 3.1 inches. The capacity of the 9mm variant is 7+1 when using the flush fitting magazine and 8+1 for the extended one.
While you do get a fiber optic front sight, the gun is not yet ready for optics. But given that it is meant to be carried concealed what is not helped by a red dot, you can accept this. The whole gun is designed to be slim, compact and light. It comes with an 18-degree grip angle making it very natural to point. The trigger pull is consistent and pleasantly short. Also, for safety, it comes with a magazine disconnect and a loaded chamber indicator.
The Glock 26 Gen5 is a subcompact pistol chambered in 9mm. It is the latest generation of the Glock 26, and it features the Glock Marksman Barrel with polygonal rifling and an improved barrel crown for more accuracy. The finger grooves have been removed, and it features a Glock hard surface finish.
For the slide, front serrations have been added making manipulating it easier. The capacity of the magazine is 10 rounds as a standard, but there are extended magazines with 12 or 15 all the to 33 rounds available. The barrel has a length of 3.43 inches, and the gun is overall 6.42 inches long. The weight is just 19.72 ounces when it is unloaded. The price of this beauty is $559.
1. Kimber Micro 9 Triari
The Kimber Micro 9 is a concealed carry gun which stands out of the crowd because of its look. It sports a deep relief laser engraved stacked cube pattern on the grip as well as the front and rear cocking serrations on the slide. This gets you a very positive grip and makes this gun easy to control during shooting despite its small size.
The overall length is 6.1 inches with a barrel length of 3.15 inches. With an empty magazine, the weight stands at 15.6 ounces. This makes this gun very friendly when it comes to concealed and comfortable carry. For that, you have to sacrifice something, and you do so with a capacity of just 7+1.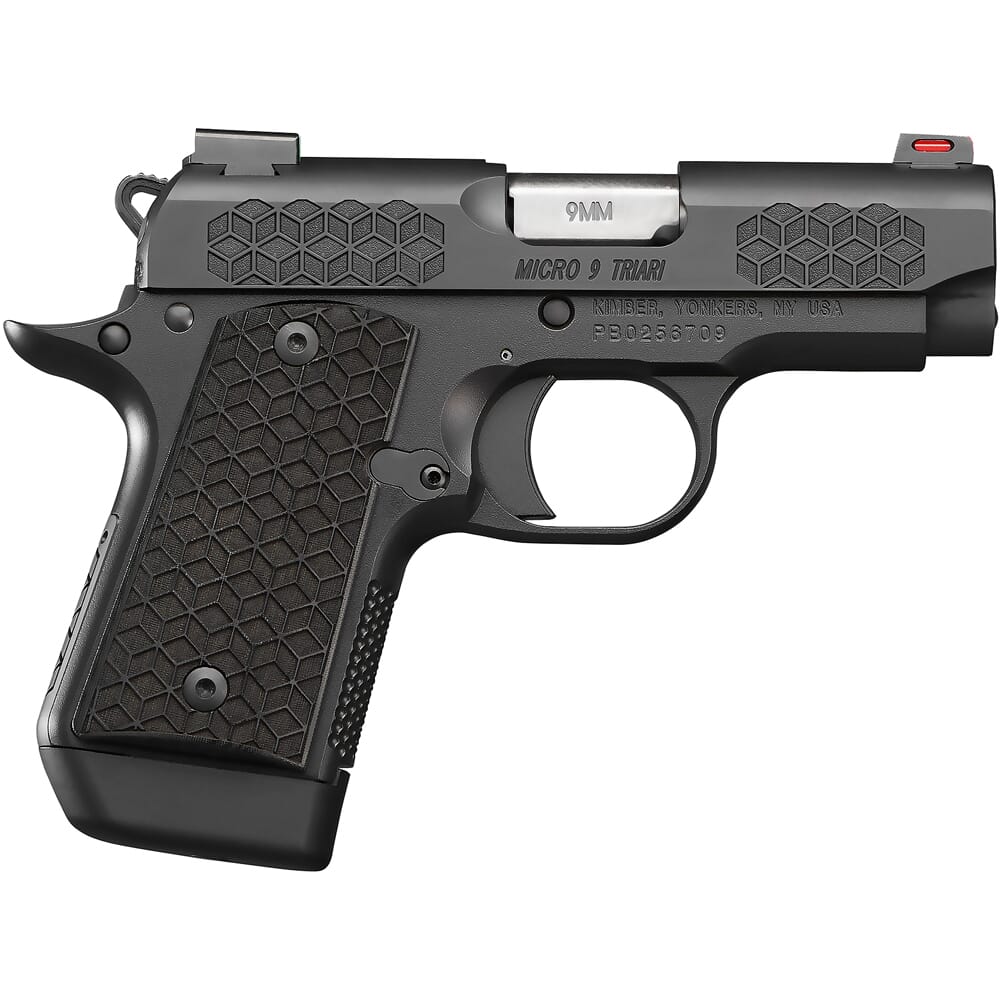 Being a 1911 design, it comes with the reliability inherent to it. Also, it features a great single action trigger right out of the box. The frame is made from aluminum to keep the weight down, and the slide is made from stainless steel sporting a Black Oxide finish. Thanks to the stainless steel match grade barrel and the well balanced design, the gun is very accurate. Aiming is done with a red fiber optic front and green fiber optic rear sight integrated in a U-notch complete with a cocking ledge. All of this can be had for an MSRP of $910.
There you have it guys, some nice carry guns for all income levels. If you own or shot one of them, let us know in the comments and tell us about your experience with it. If you are looking for a new carry gun, all of these options are great, so you can choose which one fits the budget that you have available.