In some of our topics from a few months ago, you may recall that we talked about all of the gun categories that will be banned and which of them you should go for if HR 1808 ever passes the Senate. Anti gun liberals and their overlords in both congress and the senate are really working themselves up to get our favorite guns banned.
From the looks of it, if a gun resembles any kind of military weapon or it appears intimidating like if it has an FDE or camo finish, nevermind its chambering, the type of ammo loaded in its magazine, or whether it has a fiber optic, a red dot, or no sights installed, you can bet your bottom dollar that it WILL BE banned — if the Assault Weapons ban is signed into law.
In the anti gun liberal's eyes, any firearm that resembles a military weapon should not be sold in stores or available for purchase by civilians. For instance, let's say you built an AR 15 chambered in .22 LR for whatever reason. If the new Assault Weapons Ban bill is signed into law, it will be banned, even with its weak chambering. That's just how bad things have become for these people. They don't even use their brains anymore.
But it doesn't look like the current Assault Weapons Ban bill — HR 1808 — is gaining traction, which means, there's a pretty good chance that the current administration will take a page from the Clinton administration when Bill issued an Executive Order which led to the 1994 Assault Weapons Ban. And if you know sleepy Joe, he loves issuing his Executive Orders. The guy issued 42 of those in his first 100 days! But I digress.
If Joe issues anything similar to Bill's 1994 Assault Weapons Ban, you should invest in as many ARs as you can for a couple of reasons.
Of all the gun categories listed on the Assault Weapons Ban bill, the one that has the highest number of specific brands and model numbers listed under it is the AR, which makes it the most hated gun by anti gun liberals. If Biden publish an Assault Weapons Ban Executive Order, all existing ARs will be grandfathered, and with that, they will see a significant increase in dollar value.
It'll work in your favor if you start buying ARs sooner rather than later because they're still some of the most affordable firearms on the market due to their an increasing number of supply and currently, very low demand. If you remember the law of supply and demand, it makes a lot of sense why ARs are still very affordable while other guns have become more expensive.
Gun sales soared to record high levels when the pandemic hit the US in 2020 and only started slowing down in October 2022. Even then, since January 2020, monthly sales of firearms have exceeded a million units. But since October 2022, sales of ARs have been dropping, while handgun sales remained strong, among the top contenders are the SIG P365 Macro X, Glock 43X, Taurus G2C, SIG P229, and Glock 19 Gen5.
Also, people are reportedly returning their ARs en masse due to fear of the weapons ban. Considering the record number of first time gun owners in 2020 and 2021, we can assume that a high number of people who purchase ARs for the first time aren't advocates of the Second Amendment.
They probably only purchased their ARs out of fear of any instability that the pandemic would bring about. And now, with the looming assault weapons ban, they're returning their ARs out of fear that those will become illegal.
We are now in a situation where there's a surplus of pre owned ARs on the market that saw very little use, and because they're all on the used market, you can get them at bargain prices. Indeed, it's not difficult to find a used Windham Weaponry MPC selling for $550 which is half the MSRP of a brand new one.
But what if you can't find used ARs at your local gunstore? Let me give you a quick list of ARs on the market today that you can buy brand new at low prices.
Armalite Defender DEF 15
The most expensive budget AR on the market today is Armalite's Defender DEF 15. It has an MSRP of $679, which, for something that was built by the very same company that made the original, is a really good price.
Yes, it is a basic AR with no bells and whistles, but if there's ever going to be another Assault Weapons Ban and it does become grandfathered, you'll be able to turn a profit if you decide to sell it.
Armalite's Model DEF 15 has a 16-inch barrel chambered in 5.56. It is a double lapped barrel with a 1 in 7 rifling twist rate. It's chrome lined for longevity and has a muzzle thread pitch of one half by 28 with a flash suppressor attached to the muzzle.
The upper and lower receivers are made from 7075 T6 aluminum with a black anodized finish. Its gas block has a Picatinny rail and a collapsible stock. As it is a basic rifle, it doesn't come with sights and its handguard has no rails, but it does come with a single 30 round mag.
With an MSRP of $684.95, Radical Firearms SOCOM AR has some neat features. The 16-inch barrel chambered in 5.56 is made of 4140 Chrome Moly Vanadium. It has a Melonite finish, a SOCOM profile, and a one half by 28 muzzle thread pitch with an A2 flash hider installed. It has a 1 in 7 twist rate with a barrel extension that has M4 feed ramps.
The upper receiver is forged from 7075 T6 aluminum and has an M4 style mil spec profile with a type III anodized finish. The forward assist and dust cover are also mil spec. It uses a free floating handguard and has a thin M LOK rail with a length of 15 inches.
The charging handle is mil spec and the lower receiver is forged from 7075 T6 aluminum with a type III anodizing finish. The fire control group is semi auto mil spec and comes with a Mission First Tactical EPG16V2 grip. It uses a mil spec carbine sized MFT Minimalist buffer tube with a 6 position adjustable stock. This rifle only comes with a single 30 round mag.
Del-Ton Sierra 316L Optics Ready
The Del Ton Sierra 316L is a solid budget option with an MSRP of $675. It features a 16-inch Chrome Moly Vanadium barrel with a light weight profile chambered in 5.56. It is Manganese Phosphated and has a 1 in 7 twist rate with a one half by 28 muzzle thread pitch with an A2 Flash Hider attached.
The Phosphated bolt and carrier assembly is made of 8620 Steel, heat treated and plated to mil spec standards, and has a chrome lined carrier interior. The carrier key is also chrome lined and attached with Grade 8 screws.
The upper receiver is forged from 7075 T6 Aluminum and has a flat top with M4 Feed Ramps, a hard coat anodized finish to Mil Spec standards, an ejection port cover, and a round forward assist. It is also is fitted with a 15 inch M LOK Free Float handguard.
The lower receiver is also forged from the same 7075 T6 Aluminum and hard coat anodized finish to Mil Spec standards. It features an aluminum triggerguard, an aluminum mag catch button, and an M4 five position buttstock with a Mil Spec buffer tube. The package includes a 30 round magazine and a Gun Lock.
The AM 15 offers a no frills, basic AR with an MSRP of $579. Its 16-inch barrel is made of 4150 Chrome Moly Vanadium and has a rifling twist rate of 1 in 8 with no fluting. It is a chrome lined barrel with a nitride finish and an M4 contour.
Both the upper and lower receivers of the AM 15 are forged from 7075 T6 aluminum and CNC machined to mil spec dimensions. The rifle has no sights but it is set up for optics. Included with the lower receiver is a stainless steel fire control group, an A2 pistol grip, and a six position adjustable buttstock for shooter comfort.
As for the upper receiver, the barrel is equipped with an A2 flash hider, a low profile carbine length gas system, and traditional A2 plastic clamshell handguards with inset aluminum heat shields with sadly, no rails. The company also includes their proprietary AM 15 charging handle and bolt carrier group. The rifle comes with a single 30 round ASC mag.
Palmetto State Armory SA PA 15
PSA's SA PA 15 is another basic AR that is more affordable than the Anderson Manufacturing AM 15. It uses the classic M4 design and comes with a Magpul P Mag 30 round mag. It has one of the lowest MSRPs on the market, $519.99.
The PA 15's 16-inch barrel chambered in 5.56 has an M4 profile and is made of Chrome Moly Vanadium steel with a phosphate finish. It has a twist rate of 1 in 8 inches and is threaded with a one half by 28 pitch. It comes with an A2 style muzzle device and has an M4 type receiver that is forged from 7075 T6 aluminum.
The bolt is made of Carpenter 158 Steel with a full auto bolt carrier profile. It uses a standard mil spec fire control group and comes with an A2 style grip, an M4 style stock, and a mil spec carbine length buffer tube. It has an M4 handguard with heat shields which protects your hand but it doesn't come with a rail for attachments.
Bear Creek Arsenal BC 15
The second AR to buy on this list is Bear Creek Arsenal's BC 15 with its $489.99 MSRP. I'm aware that it doesn't come with a magazine, but Bear Creek Arsenal sells Mission First Tactical's 30 round mags, the most affordable ones cost $12 apiece. Add that to the BC 15 and you only pay $501 total.
The BC 15's 16-inch barrel chambered in 5.56 is made of 4150 Chrome Moly Vanadium and has an M4 contoured profile. It has a 1 in 8 rifling twist rate, an M4 feed ramp, and a Parkerized finish. The muzzle is threaded with a one half by 28 pitch and comes with a flash hider.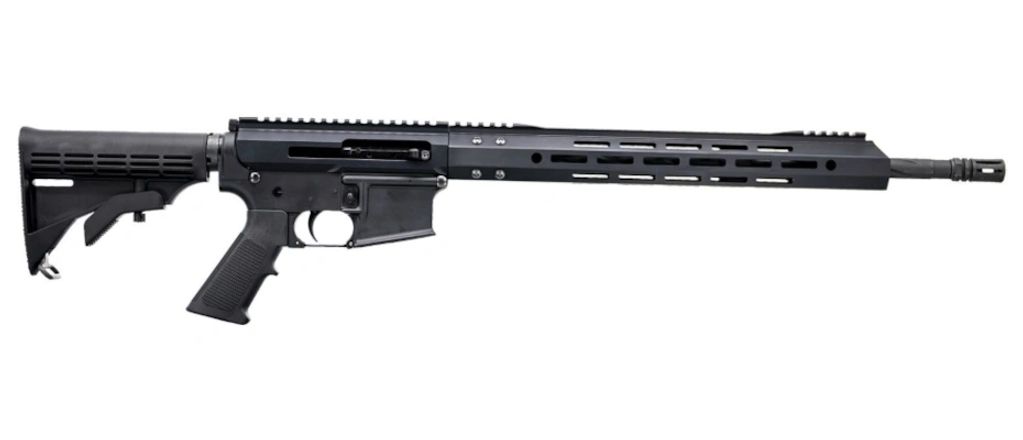 It comes with a charging handle located at the rear of the rifle. The bolt is made of E9310 material, and the lower is a mil spec forged AR 15 multicaliber lower. In addition, it comes with a 15 inch MLOK rail for attachments and has the company's proprietary AR 15 Bolt Carrier Group. This makes it the best bang for buck AR 15 as it offers even better value than Palmetto State Armory's PA 15.
And my top pick is the ATI Omni Maxx P3P, the most affordable AR on this list with its $489 MSRP. It is equipped with features that set it apart from other rifles. It boasts a fully patented upper and lower receiver, both are made of polymer reinforced with metal inserts for added rigidity and durability. The lower receiver is designed to secure the hammer and trigger pins during firing, ensuring stability.
The rifle also has patented over molded metal inserts that strengthen the buffer tube housing, rear takedown pin, and front takedown pins. The Omni Hybrid Maxx P3P is designed with the innovative Safe T First Nano Composite Parts Kit, which includes components such as the hammer, trigger, disconnector, takedown pins, safety selector, magazine release, and detents.
Made from nano composite material, these components are just as strong as metal parts but weigh only half as much. The 16-inch barrel chambered in 5.56 is made of chrome moly vanadium, has a 1 in 8 twist rate and a nitride finish. The upper and lower receivers have a Flat Dark Earth finish, while the grip is made of polymer. It comes with the company's proprietary 30 round mag and an M LOK Handguard. They're out of stock on ATI's website but gunbroker.com has them in stock.
And that's all I have for you in this topic. It's important that you start investing in used AR 15s with premium features or even budget models like the ones on my list if there's ever going to be another assault weapons ban.
And you need to act sooner rather than later if you want to leverage this situation, because as soon as Joe issues his Assault Weapons Ban Executive Order, people will start buying all available ARs. Supplies will dry up and their prices will start increasing. Before you know it, a $500 budget Bear Creek Arsenal will sell for up to two grand.
If you're interested in any of the rifle models in this topic, or if you already own a few ARs, tell us about your collection. Maybe you've been doing this for a while and you can recommend better models as well, feel free to sound it off in the comments.