This is easier said than done as I only get to pick 10 and Ruger makes a lot of excellent handguns.
Sturm, Ruger & Co, or Ruger for short, is one of the oldest firearm manufacturers in America. The fact that they are still here means that they have been doing their job well so far, and a quick glance at the quality of their products confirms that. From the bolt-action Ruger American rifle to the AR556, Ruger is well-known for their centerfire rifles.
But that does not mean that they make bad pistols. If you want a semi-auto 9 mm pistol for self-defense or a big revolver for taking down big game, Ruger has something for you. And that is the purpose of today's video. We will look at their best pistols and tell you why you should consider getting one.
The American Pistol is quickly rising in terms of popularity because it is a reliable and versatile little piece. Chambered in 9 mm and .45 ACP, this striker-fired gun is slim enough for a comfortable concealed carry application. It comes in two models: Pro which is 1.4 inches wide and manual which is 1.51-inches wide. In any case, the American Pistol comes with a wrap-around grip system as well as ambidextrous controls. You get a Novak Lomount carry 3-dot sight as well as a Picatinny rail for various accessories under the barrel. In terms of safety, you get it in the form of an integrated trigger safety and an automatic sear block system.
This distinctive pistol is chambered in .22 LR (22 Long Rifle) and is suitable for a wide variety of applications ranging from hunting to competitive target shooting. Complete with a one-piece CNC machined frame and a cold hammer-forged barrel, the Mark IV is remarkably durable and accurate. That said, Ruger also made sure that maintenance is as simple as possible by including a one-button takedown system, which is pretty much mandatory for any .22 LR pistol. Speaking of buttons, the Mark IV comes with an ambidextrous safety as well. Not to mention, the gun would be an excellent starter firearm for beginners thanks to the low recoil. If you want, Ruger also offers the Mark IV tactical models with polymer grip frames, weaver, and Picatinny rails.
The Security-9 was designed with concealed carry in mind. This striker-fired 9 mm pistol immediately became popular soon after its debut, for very good reason. The thickness of the slide is a hair above an inch, giving it an unbelievably slim profile. To top it all off, you get 15 rounds in the magazine. The Security-9 is an amalgamation of nylon for the frame and hardened ally steel for the slides. Other features include an integrated trigger safety, a manual safety, a textured grip for extra traction, and drift adjustable sights. Some models come with Viridian E-Series laser sights. Did I mention that the Security-9 is affordable?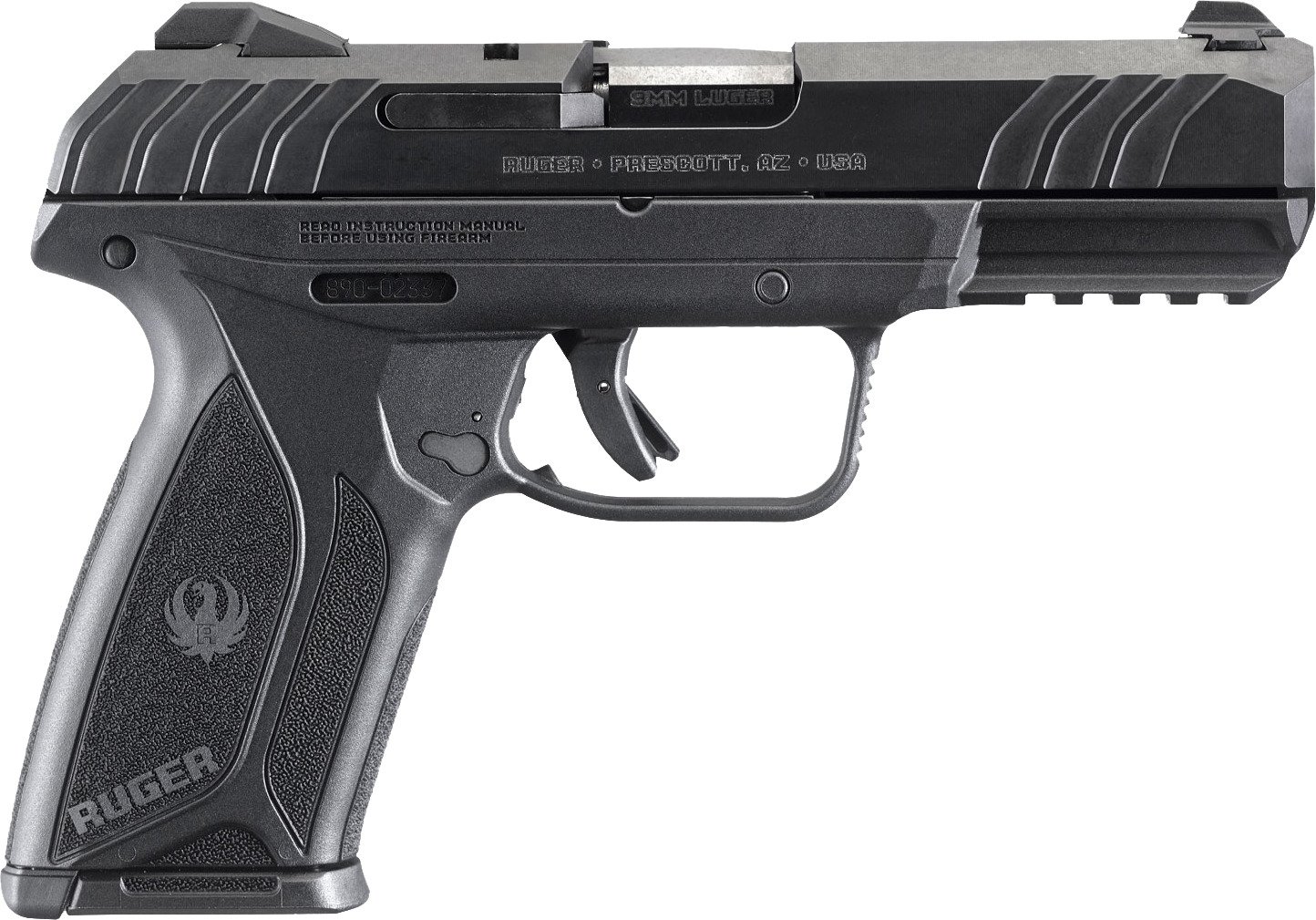 Want something with more capacity, better accuracy, and speed than your basic striker-fired, polymer-framed 9 mm? As the name suggests, the Ruger-57 is actually chambered in 5.7×28 mm. This bottlenecked round can reach up to 2,800 feet per second, and you get 20 of them in the magazine. The barrel sits at a hair under 5 inches and the dripped and tapped alloy steel slide allows for optics, not to mention the fiber optic front sight and an adjustable rear. Ruger made sure to make this gun as accessible as possible by implementing ambidextrous control. The Ruger-57 was a smashing success as the cartridge, albeit trickly to find, is fun to shoot and the gun itself is very solid.
If you want something with the stealth factor cranked up to 11, you go for the LCP II. Depending on the configuration, the LCP II can weigh anywhere between 10-12 ounces, which is virtually nothing. You can keep it in your pocket or purse and barely notice it is there. Ruger managed to keep the weight this low thanks to the glass-filled nylon frame, although the slide is still hardened steel. It comes with integral sights but you can get others that come with a Viridian E-Series laser sight for fast target acquisition. The barrel is black oxide ally steel at 2.75 inches long. The textured grip also enhances ergonomics. But if you do not like the all-black aesthetics, you can also pick from different stylistic finishes as well. The LCP II is chambered in .380 ACP and .22 LR. Did I also mention that the gun is very affordable?
Streamlined and versatile, the Ruger LCR is a lightweight concealed carry revolver that is chambered in various calibers such as 9 mm, .38 Special, .22 LR, .22 WMR, .327 Federal Magnum, and .357 Magnum. The fit and comfort are excellent thanks to the Hogue Tamer Monogrips and the gun is surprisingly tough as it is made from aerospace-grade aluminum and stainless steel for the cylinder. Ruger removed the hammer and made sure to minimize the chance of the gun snagging onto anything when you whip it out in a hurry. But if you want an external hammer, get the LCRx.
Nothing beats a revolver as far as reliability is concerned. If you want to have a revolver for self-defense, this double-action SP101 is for you. It is available in both stainless and blued steel. You get a triple-locking cylinder and grip frame that you can swap for either rubber or hardwood. The lack of exposed metal on the grip makes the gun even more comfortable to hold. Disassembly of the gun is straightforward, with no tools required. That means, you can take it apart and tinker with it at the range with minimal hassle. This revolver is chambered in .327 Federal Magnum, .38 Special, .357 Magnum, 9 mm, as well as .22 LR.
The distinctive silhouette is unmistakable. The iconic 1911 is the one gun that all gun manufacturers that are worth a dime are trying to recreate. After all, everybody loves a classic 1911 semi-auto. Ruger also took a crack at it and the SR1911 is the result. They offered it in different flavors such as a full-size, offer-style compact, competition, and target configurations, all bearing some semblance to the Colt M1911.
The barrel, slide, and frame are stainless steel, which accomplishes two things. One, the SR1911 is very durable. The most you will do to it is some scratches on the surface. Plus, the steel look coupled with the hardwood grip gives it a classic and stylish look. The slide comes with a large ejection port for improved cycling. The trigger is aluminum white and the firing pin and hammer are tough titanium. You get a beavertail to protect your hand and a thumb safety to protect against negligent discharge. The replaceable grip panel allows you to adjust the fit and feel to your liking. As for the chambering, the SR1911 can be had in 9 mm, .45 ACP, and 10 mm Auto, all are good for self-defense applications.
Want to try hunting with a revolver or want some powerful gun in a small package? Consider getting the Super Redhawk. This single-action stainless steel gun is complete with a cold hammer-forged barrel and integral mounts for optics of your choosing. If you have an aversion to putting optics on a revolver, you can also just roll with the red lamp front sight and adjustable rear. In terms of ergonomics, you get a Hogue Tamer grip for a better fit. It is chambered in various cartridges such as .44 Remington Magnum, .454 Casull, .480 Ruger, and 10 mm Auto if that's what you're into. Certain models are dual-chambered. That means, some Super Redhawks can chamber both .44 Magnum and .44 Special, for instance. Personally, if you want a stronger suggestion than a bear spray, I recommend picking the Alaskan model that has a short 2.5-inch barrel.
The Super Blackhawk is Ruger's attempt to recreate the old cowboy gun you see in the movies, but also adding in some modern flair to make it more fun to shoot. If you are into that kind of aesthetics, then this might be for you. This single-action comes in either blued or stainless steel with various Western-styled grips that really go well with your cowboy outfit. The cold hammer-forged barrel is also rifled for improved accuracy. If you want some extra value, I recommend getting one of the models that are dual-chambered. So, the .357 Magnum can shoot .38 Special rounds and .45 Colts can work with .45 Auto, and 10 mm can work with .40 Smith & Wesson. While the Super Blackhawk is fun to shoot at the range, it also works well for ranchers and farmers as well.
And there you have it, folks. These are my top 10 picks for the best Ruger pistols. Granted, this is just my opinion and you do not have to agree with everything I said here. If you think that any other Ruger pistol should make the list, let us know your thoughts in the comment section.