It seems the market for new firearms will never stop growing. If the last few years have taught us anything, it's that the gun industry is bulletproof to the effects of recession and politics.
There are so many awesome rifle options coming out in 2023 that they will be hard to ignore.
Hopefully, you still have some money after 2022.
Last year, I had a chance to go on a hunt with the Tikka T3x. It was a dream to carry and shoot. The trigger was beautiful, and it landed every shot intuitively.
While it was a dream gun, the Browning X-Bolt Long Range ultimately stole my heart. The trigger is not as good, but in the end, it fit me better, and I like the 26-inch barrel over the Tikka's 24-inch barrel. We can all agree that two inches isn't much, but it still gives us a confidence boost.
Shot Show 2023 brought a wealth of new rifles to stoke that childlike joy again.
So, without any more delay, let's take a look at some of the most exciting rifles for 2023.
7: Savage Arms Stevens 334
If you want to make sure you don't break the bank in 2023, Savage Arms may give you what you need. They've made a name for themselves with their accurate, reliable, and reasonably priced guns. Granted, they aren't as popular as Winchester, Ruger, or Smith & Wesson, but they do enough right to get a mention on the list.
The Savage Arms Stevens 334 is a great addition to their growing repertoire. The classical styling on the 334 shows what Savage arms are capable of. If you are not a fan of the authentic Turkish walnut stock, a cheaper synthetic version is also available. Besides the gun's beautiful aesthetics, there are some features that promise to enhance its performance. The carbon steel barrel is free-floating and button-rifled for consistent accuracy. The three-lug bolt-action design includes a carbon steel receiver with an integrated recoil lug to keep the barrel on target. The recoil is also mitigated with the help of a generous rubber recoil pad on the buttstock. It includes a 60-degree bolt, which should help with quicker reloads.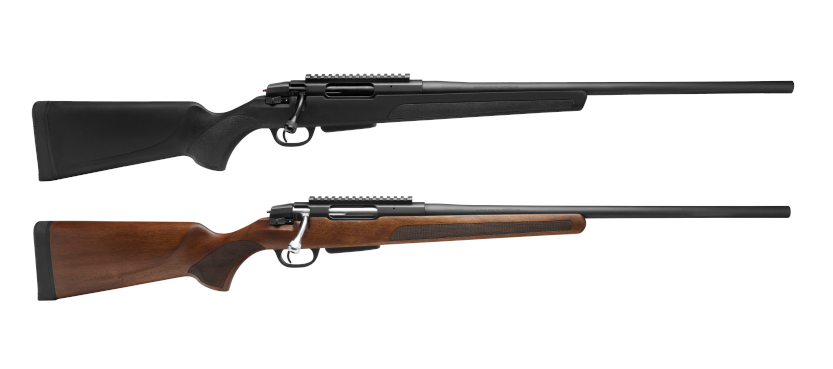 You are going to feel a bit of a kick since the Stevens 334 comes in three popular chamberings. The 243 Winchester and 308 Winchester models have a 20-inch barrel. There's also a 6.5 Creedmoor variant with a 22-inch barrel for longer-distance shooting. The Savage Arms Stevens is looking to be a fine hunting companion so far. If you are working on a budget but don't want to compromise, the 334 will meet you halfway.
6: Mossberg Patriot LR Tactical
Mossberg is well known for making some of the smoothest shotguns in the business. The U.S. military even uses the Mossberg 590A1 pump-action shotgun. Their rifles are no different. The standard Mossberg Patriot is one of the most dependable and accurate rifles you'll find under $500. Now, we have the Mossberg Patriot LR Tactical to look forward to.
The LR Tactical brings us an upgraded chassis to feast our eyes on. It's jam-packed with features that give the Patriot new life. The buttstock and cheek rest are both adjustable to find that custom fit and feel you are looking for. The trigger is also adjustable from 2 pounds to 7 pounds, with an oversized trigger guard for gloved hands. I like that the magazine release is integrated into the front of the trigger guard. This makes reloads with the AICS-style magazine quick and easy. The smooth action of the spiral fluted bolt combined with an oversized handle makes it an absolute joy to shoot and reload.
There's a top-mounted 20 MOA (minute-of-angle) Picatinny rail, so I would recommend a pretty decent scope to get the most out of the long-range shooting the Patriot is capable of. You are in for some accurate shots with this rifle. The carbon steel barrel rests perfectly in the aluminum V-Block bedding of the chassis for improved stability. With the unbelievable ergonomics on this rifle, you are guaranteed to get a stable hold. There's an option to thread a silencer onto the barrel too, which comes in a 22-inch version or a 24-inch version. M-LOK attachment slots litter the shroud for whatever accessories you prefer.
Depending on the caliber, you can use a 10-round or a 7-round magazine. The .308 and 6.5 Creedmoor have 10-round magazines, while the slightly larger 6.5 PRC has a 7-round magazine. The whole package is perfect for hunters and shooters that want a serious, long-range shot. It may be a little pricey, but all the features may make it well worth it.
5: CVA Paramount Pro V2
If you are looking for something different, the CVA Paramount Pro V2 is unlike any rifle on this list. It may look like a modern precision rifle, but don't be fooled. The Paramount is a muzzleloading rifle, meaning you will load directly from the muzzle. Yes, I know muzzleloaders were replaced by bolt-action rifles by the year 1870. You won't buy one of these for sheer performance.
Every round you fire needs to be loaded with black powder to propel the bullet. If you are looking for an extra challenge during your hunt, this will definitely give it to you. Muzzleloaders do not perform nearly as well as bolt-action rifles, but this didn't stop CVA from producing a rifle capable of high performance and long-range shooting. The nitride-treated stainless steel barrel is made by Bergara and features a Cerakote coating for extra durability. Considering it is a 26-inch barrel with additional fluting, it should give you some accurate shots. .45 and .50 caliber versions are available for the Paramount Pro V2, but remember, it's custom built for the PowerBelt ELR bullets. According to the energy output of these rounds, this will be enough to kill an elk at 300 yards.
The rifle is fitted with a TriggerTech adjustable trigger, which will make for some crisp, clean shots. I like the Micro-Adjust Williams® peep sight that comes standard with the.50 caliber version. The .45 is drilled and tapped for the same system. While it doesn't keep up with the performance of modern rifle platforms, the CVA Paramount Pro V2 will fill a soft spot for those who love muzzleloaders.
4: B14 Squared Crest Rifle
The B14 series of rifles has been around for a while now, and they have really delivered on performance and quality. This is a great rifle you can pick up for under $1000. This is not the case with the B14 Squared Crest. It certainly delivers on performance and quality, but it comes with a bigger price tag.
It seems to be well worth it since Bergara managed to blend all the best features of the B14s into one neat little package. Hence the name "B-14 Squared." Cartridge insertion and extraction are unbelievably smooth on the B14, owing to the two-bolt system with a sliding extractor and a tapered bolt breech. The impeccable quality is evident in the bolt setup, but wait until you get a feel for the stock. It is made from 100 percent carbon fiber with an internal carbon spine for greater strength and stability. This will ensure it weathers any storm, making it the perfect companion on heavy hunting trips. The barrel is made from standard 4140 steel, but this does not mean it holds standard accuracy. Bergara combines state-of-the-art machinery and an absolute dedication to quality to keep pumping out precision rifles.
To keep your trigger finger happy, Bergara fitted the Squared Crest with an adjustable performance trigger for some light shooting. We have four different chambering options for the B14. There will be 6.5 Creedmoor, 6.5 PRC, .308 Winchester, and .300 Win Mag calibers available. The Bergara Squared Crest is easily among my favorites on this list. Is it the performance? Is it the quality? Yes and yes, but the biggest reason is probably the aesthetic appeal.
3: Springfield Armory Saint Victor 9 mm Carbine
Here is one to tantalize the AR fans, especially if you enjoy a pistol-caliber carbine. The Springfield Armory Saint Victor carbine brings us the AR platform we all know and love in a handy 9mm chambering. This isn't some 5.56mm AR converted into a 9mm. The Saint Victor was made to be a 9mm from the get-go.
The forged upper and lower receivers are designed to accommodate the 9mm round, leading to fewer jams, misfeeds, and general feeding issues. Coupled with the rugged direct blowback system, we have a 9mm AR platform that is simplistic and reliable. You can guarantee the Saint Victor will cycle smoothly through every shot. The gun utilizes Colt pattern magazines, which hold 32 rounds for you to blast through. The barrel is a 16-inch melonite barrel. I can hear what you're thinking: "Why bother with a 9mm that has a 16-inch barrel?" It's not like your performance will be much better. The biggest reason for this is to avoid the ever-changing pistol regulations. Buying one of these will be a much simpler process.
This rifle is perfect for home defense, or for those who want to train with the AR platform but don't want to fork out the extra cash for 5.56mm ammunition.
2: Henry Repeating Arms Homesteader
The Henry Repeating Arms Homesteader is one of those rifles you will always end up bringing to the range, just because it is so much fun to shoot. The semi-automatic rifle fires 9mm rounds, and it does so accurately, nicely landing shots out to 100 yards.
I love the classical design on the Homesteader. It's a traditional two-piece stock topped with ghost ring sights and fully ambidextrous controls. The internals are anything but classic, offering a direct-blowback design with very few moving components. This makes the gun robust and resilient to carbon and dirt buildup. It also means you will have a smooth cycling action that you won't be able to stop shooting. Good thing 9mm ammo is cheaper. An optic can be mounted on the receiver if you don't want the ghost sights. A silencer can also be threaded onto the barrel. The design is styled around Henry's magazines, though versions for Glock, Smith & Wesson, and SIG Sauer magazines will also be made available. I'm sure many of you have Glock magazines lying around that you want to put to good use.
So far, this rifle looks like one that will bring hours of joy, and it ships for less than $1000. The American Walnut Homesteader starts shipping February 1st, so hopefully by the time you watch this topic you'll have your hands on one.
1: Colt CBX
It is no surprise that the Colt CBX would take the poll position. Colt's years of experience in the industry make them a tough competitor, plus this is the first precision rifle we've seen from them for some time. Colt aimed the CBX at the precision rifle market, and from the looks of it, they have hit the bullseye.
The Colt CBX looks completely badass if you are into the modern design. The rifle features a 15-inch ARCA rail covered with M-LOK slots, a two-position safety, and a threaded barrel for silencers. The ARCA rail houses a 24 or 26-inch barrel coated in black nitride for extra corrosion resistance. The 6.5 Creedmoor has a longer 26-inch barrel, while the .308 has a shorter 24-inch barrel. The carbon steel barrel has been button-rifled and has a ballistically optimized length and twist rate. When Colt talks about pinpoint accuracy, they mean it. Not only will you hit where you are aiming, you will do so with ease. The trigger is adjustable from 2.5 pounds to 5 pounds, so you will be able to find the perfect squeeze. With the AICS-style 5-round magazine and 60-degree bolt throw, reloading will be quick and easy. The 60-degree bolt-throw will improve cycling times and increase optic compatibility.
The Colt CBX weighs 10.75 pounds, a bit more than most guns on this list. However, that shouldn't throw you off since everything can be adjusted to give you a custom fit. With the Colt name behind this precision rifle, you can be guaranteed that it is accurate, consistent, and reliable. If you want a sub-MOA precision rifle that's got your back, you have found it.
I see a lot of promise for these rifles in 2023. We all have a different opinion, so let us know yours in the comments!